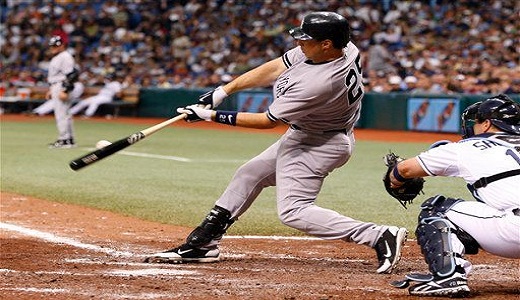 The Yankees are coming off a 10-0 thrashing of the Rays on Saturday. CC Sabathia took a no hitter all the way to the 8th, while the Yankees destroyed the Rays pitching. It wasn't much of a contest on Saturday, but don't expect that trend to continue in this battle. Both teams look poised to take the top spots in the AL East, and each game can be the difference at the end of the year. On Sunday, James Shields gets the nod for the Rays, while AJ Burnett takes the mound for the Yankees. Burnett surely has the advantage in this match up. Neither pitcher had impressive 2010 debuts, but Burnett's history is enough to push him past Shields.
On the offensive end of the spectrum, there are few teams that the Yankees do not have a massive edge on. The Rays are no exception to this rule, and are going to be fighting an uphill battle on Sunday against the Yankees. The Yankees are the same threat as usual, with Teixeira, Rodriguez, and Cano being a triple threat that few teams can hold down. The Rays need Longoria and Crawford to step up with some big hits on Sunday if they want a shot at adding a win to their record. Upton would certainly help as well if he could strong together a double or two.
The Yankees are a good pick on the moneyline at -105. At almost even money, there is no way that the Yankees don't take this game much more than 50% of the time. If the Rays had a better starter, this moneyline might still be a solid pick.