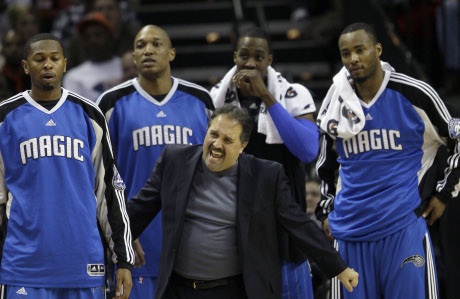 All of us could see this coming – Dwight Howard exploding for a 32-point, 16-rebound performance in Game 4 facing elimination. Howard led an inspired effort by the Magic against the Celtics and managed to steal a game in Boston with an overtime victory. Jameer Nelson finally found a map to the Eastern Conference finals and played like he did in the Magic's first two series. He made back-to-back three-pointers in extra regulation.
Although Orlando received a big game from Howard and late game heroics from Nelson, it doesn't mean that they'll pull off a "Philadelphia Flyers" comeback and win the series against Boston. The Celtics only lost by four points, it's not like Orlando dominated the whole game. Howard got monster numbers but Boston hung in there 'til the very end.
If not for a few Paul Pierce mistakes down the stretch, Howard and Co. would've found themselves sitting on a couch at home. The Magic victory in Game 4 is not because they played desperation basketball, but because Boston did not. Pierce decided to play hero and opted to go on isolation plays down the stretch. Head coach Doc Rivers failed to remind Pierce that the Celtics are not a one-man team like LeBron James' Cleveland Cavaliers or Dwyane Wade's Miami Heat. These Celtics thrive on playing team ball – great rotations on defense and crisp passes that lead to smooth ball movement on offense.
Still, the Celtics have nothing to worry about. This is not the NHL where the Boston Bruins committed the biggest choke in sports history by allowing the Flyers to win four straight games and steal the series. T his is the NBA where an educated guess can lead to the right choice. I'm not saying that I expected to see the Celtics within a win of the NBA finals. All I'm saying is with the way the Celtics have been playing in the playoffs; it would be a crime against humanity for them to collapse against a one-dimensional Magic team. One-dimensional meaning, dump the ball to Howard and wait for the defense to collapse and kick the ball out to an open shooter.
The Magic were lucky to survive Game 4. This would be a series if they won in a manner like the Suns did against the Lakers. Phoenix figured out how to stop the Lakers on offense. I didn't see this last night from the Magic. They didn't figure out anything. Nelson finally got out of the straight jacket Rajon Rondo was holding him in. Rondo had a bad game last night. With the way he's been playing, don't expect it to happen again.
Game 5 will be different. The Celtics will remember what got them here in the first place. In the words of Amar'e Stoudemire, it was a "lucky game" for the Magic.