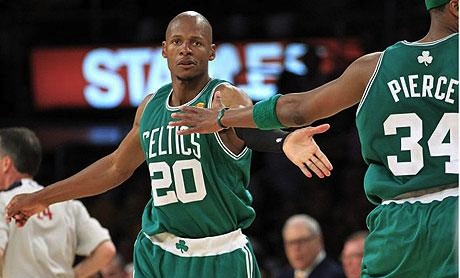 Bet the NBA Finals- Click Here NOW
Looks like we're headed back to Los Angeles after all. Subs Glen "Big Baby" Davis and Tiny Nate Robinson spearheaded a terrific fourth quarter run that helped the Celtics tie up the series two games apiece with the Lakers.
Davis scored 18 points total, but nine was scored in the deciding quarter. His energy was a huge factor for the Celtics. Despite having shorter arms than his counterparts, Davis was very active inside and was determined to put a body on someone.
"Just will, that's all it is," Davis said. "This is what legends are made of, this is where you grasp the moment. … Just play in the moment."
Boston's Big Three combined for 44 points. Ray Allen, who did not make a field goal in Game 3, scored 12 points. Paul Pierce dictated the Celtics offensive pace early on by playing aggressively and attacking the rim. Pierce scored 19 points. Kevin Garnett's relatively huge game in Game 3 was wasted. He didn't have a repeat performance but managed to notch 13 points and six rebounds.
Entering the fourth quarter, the Lakers were up by two. Phil Jackson took a gamble and kept Kobe Bryant and Pau Gasol in at the start of the fourth. Jackson figured that the Lakers should go for the kill, but boy was he wrong. Not only did the Celtics pull away with its bench midway through the fourth, but Bryant and Gasol had dead legs in crucial moments in the game.
Nate Robinson scored 12 points in a span of 17 minutes. His energy brought the Celtics play to a new level the Lakers just couldn't match. Robinson's energy was so high that he was issued a technical foul after reacting to a hard foul from Lamar Odom.
Robinson had this to say about Boston's bench performance, "We just knew we had to bring our energy, that's the main thing for us. The more energy we bring, the better offensively we are and the better defensively we are."
Bryant scored 33 points and tried to keep the Lakers in the game in the fourth. He brought the Lakers within six by sinking two free throws, but Rasheed Wallace hit a three to push the lead to nine. From then on the Lakers didn't have enough left in the tank to pull off a comeback.
Gasol scored 21 for the Lakers, but like Bryant, was highly ineffective in the fourth.