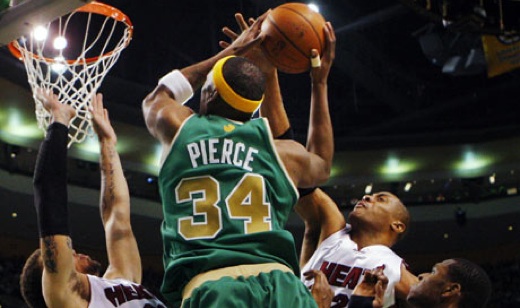 The Boston Celtics are coming off the bad end of a thrilling NBA Finals series with their archrivals in the Los Angeles Lakers, but despite being unable to beat Kobe Bryant and company in game seven and win their second NBA title in three years, the Celtics are optimistic about their future.
Even though the Boston Celtics will almost certainly be able to put a competitive basketball team on the floor next season with All-Stars Kevin Garnett and Rajon Rondo leading the way, the Eastern Conference heavyweights will have a few moves to make this offseason starting with head coach Doc Rivers, sharp shooter Ray Allen and leading scorer Paul Pierce.
Hoops? World Cup? Bet On It! – Click Here NOW
The Celtics head coach Doc Rivers still has a year to go on his contract, much like Paul Pierce, but he might be thinking about calling it quits to spend some time with his family in Orlando. There is no question that Rivers is a player's coach and well liked by all of the Boston Celtics, but could be leaning towards retirement or taking some time off do to the fact that he feels he is missing out on important times in his children's lives.
A good majority of the Boston Celtics players have already talked to Doc Rivers during this NBA offseason trying to convince him to stick with the team a little longer, but the popular head coach has said that he is leaning one way and won't say which way that is.
In the meantime, the Boston Celtics have some players that they need to take care of in the form of free agent Ray Allen and superstar Paul Pierce. It is uncertain whether or not Allen will be re-signed as he might get some lucrative offers from other teams like the Chicago Bulls and New York Knicks, but he has said that he wants to come back to Boston.
Paul Pierce on the other hand is another story altogether as he has the ability to opt out of his current contract this summer and become a free agent along with the rest of the superstars like LeBron James, Dwyane Wade and Chris Bosh.
The All-Star forward has given no indication that he intends to opt out, but with other superstar players that have played with the same team their entire NBA career like the Dallas Mavericks Dirk Nowitzki most likely opting out, Pierce testing the free agent market is always a possibility.
The one thing that will probably keep the Boston Celtics leading scorer from opting out of his contract this summer is the fact that he is owed $21.5 million next season which will be forfeited if he chooses to test free agency.
In all likelihood, the All-Star will remain with the Boston Celtics for at least one more year as he would be crazy to leave $21.5 million dollars on the table next season. Not only would he be leaving a lot of money on the table, but there probably isn't a team out there that is willing to pay this aging forward that kind of money.
So in my opinion, Paul Pierce will stay in Boston and eventually retire as one of the greatest Celtics of all-time and might be able to add one more NBA title to his legacy if the Celtics can bring back Ray Allen, Doc Rivers and one or two veteran free agents.