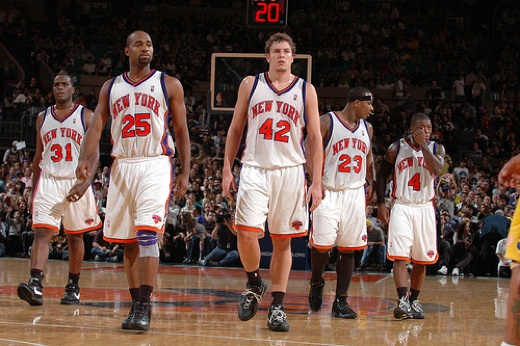 Bet on your favorite sport – Click Here NOW
The NBA free market is rapidly approaching and the league will never look the same as there will almost certainly be some serious wheeling and dealing come July 1st with a lot of big-name free agents potentially signing with other teams.
Even though there are quite a few game changers that will be available on the first of July, LeBron James tops the list of NBA superstars that could be heading elsewhere during this NBA offseason. Along with LeBron, there are plenty of players in the league that will be available who could drastically change the look of an NBA franchise next season.
LeBron James might be on the top of the list, but not far behind him are Dwyane Wade, Chris Bosh, Amare Stoudemire and Joe Johnson.
Although any team in the league would love to have players of their caliber, there are only a handful of teams that will be able to sign these big-name free agents. Money is the key issue this offseason for all the teams involved as there are only a couple of teams that have the ability to sign not just one, but two of these big-name free agents.
The New York Knicks are the one team making the most noise right now as they have already made it clear that they have LeBron James in their sights, but they would also like to get their hands on Chris Bosh or Amare Stoudemire at the same time.
Unfortunately, LeBron James will have to be the first big-name free agent to sign with a team this summer as the other available NBA superstars have said that they are waiting to see what King James does and whatever he does choose to do will affect their decision.
With that being said, all the teams with the cap space will aim directly at LeBron James first before dealing with any other free agents as the team that is able to sign the two-time NBA MVP will drastically improve their chances of signing another big-name free agent like Chris Bosh, Joe Johnson or Amare Stoudemire.
The two teams that will get the first shot at LeBron when he officially becomes a free agent on July 1st are the New Jersey Nets and the New York Knicks.
The New Jersey Nets landing LeBron James is a stretch as they don't really have the kind of supporting cast that King James will be looking to play alongside, but along with new billionaire owner Mikhail Prokhorov and new head coach Avery Johnson, LeBron's close friend Jay-Z will also be involved in the negotiations with the superstar on the first of July.
The next team in line will be the New York Knicks who will send their president Donnie Walsh and head coach Mike D'Antoni to try and convince King James to move his throne to the Big Apple.
So even though the future of LeBron James has been very uncertain over the past two years, we will get an answer sooner rather than later as July 1st is just around the corner.