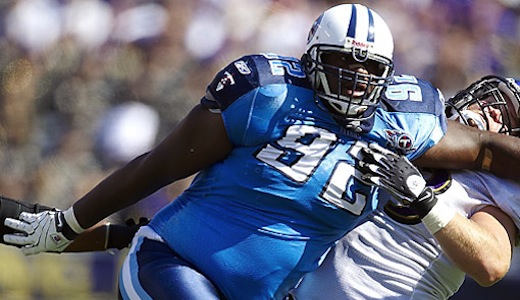 Bet NFL Football Now – Click HERE
The Washington Redskins have gone through some drastic changes over the last season and throughout this offseason with a new starting quarterback and head coach being their biggest moves, but they aren't done yet as they have might have to get rid of their $100 million dollar man via trade.
Before last season, the Redskins made a bold move to upgrade their struggling defense by signing arguably the best defensive player in the league in defensive tackle Albert Haynesworth. No one knew whether or not the Tennessee Titans would be able to match the offer made by the Washington Redskins, but fortunately they didn't as Haynesworth went to Washington and had a very disappointing season.
Along with having a very disappointing season with his new team, Haynesworth hasn't become fan favorite or a good teammate as he is probably the most unpopular player in Washington right now. Not only did he have a very poor season as the Redskins only won a total of four games last year, but he has only been a distraction to the team ever since as he has demanded a trade only shortly after getting a $21 million dollar bonus from the team.
Reportedly, the former Pro Bowler is upset about the new defensive scheme that new head coach Mike Shanahan is implementing in Washington as he will no longer be a pivotal part of the defensive front line. As a result, Haynesworth has said that he wants to get traded and with this very selfish act of a "me first" mentality, the Washington Redskins would love to grant his request, but they would like the $21 million dollars given to the defensive superstar back before making a deal.
Start the NFL Season With Bodog Sportsbook
Apparently, there are quite teams interested in retaining Albert Haynesworth's services, but the Washington Redskins are really second guessing shipping their $100 million dollar man elsewhere. As of right now, the Redskins are still fielding offers for their defensive beast, but no trade is on the horizon just yet.
The three teams that have consistently been mentioned as possible destinations for Haynesworth have been the Detroit Lions, Oakland Raiders and the Tennessee Titans.
Personally, the best fit for Haynesworth in my opinion would be to return to Tennessee where he made a name for himself. By returning to the Titans he would be able to get his old job back and turn the Tennessee defense back into the dominant force it was a couple of years ago. Even though that is an ideal situation, it is uncertain how serious the Titans would be about getting him back.
The one team of the three that seemed pretty serious about going after the Pro Bowler was the Detroit Lions. It is no secret that the Lions are in desperate need of some upgrades on defense, but recently it was reported that are no longer interested as they are not willing to take on his bad attitude as they try and turn around their franchise.
So at this point in time, Haynesworth's future is still very much up in the air, but I won't be surprised to see Shanahan unload the big fella before next season.