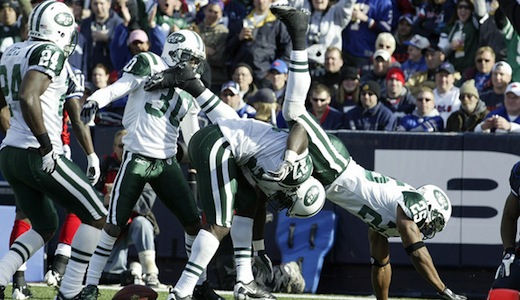 Bet the NFL Preseason Now – Click HERE1. New York Jets
Coming into last season, the New York Jets had just gone through a rebuilding process that saw the struggling storied NFL franchise bring in a new head coach, new starting quarterback and entirely new game plan with a focus on the defensive side of the football.
With new head coach Rex Ryan at the helm in New York, the Jets took on an entirely different approach as they concentrated on defense first and offense second. This was the exact same game plan that the famously outspoken head coach had implemented in Baltimore and had great success with over the years.
Even though many people didn't expect instant success for the New York Jets last season with a rookie quarterback (Mark Sanchez) and a new head coach, that is exactly what they got as they were able to get the playoffs and all the way to the AFC Championship game.
Unfortunately, they were unable to get the best of the Indianapolis Colts and advance to the Super Bowl, but they definitely have high hopes for the future and will have arguably the best defense heading into next season.
2. Baltimore Ravens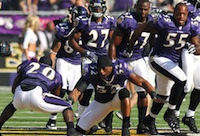 Over the past decade or so, the Baltimore Ravens have been known as having one of the best defenses in the NFL, but last season the defense started to take a back seat to a promising young offense led by quarterback Joe Flacco and running back Ray Rice.
Even though the Baltimore offense is starting to make more headlines and somewhat overshadow the lockdown defense of the Ravens, Ray Lewis and company are still playing at a high level and actually supporting their new found potent offense by maintaining leads.
It is no secret that the leaders on defense aren't getting any younger as both linebacker Ray Lewis and safety Ed Reed have considered retirement over the past couple of seasons, but they should be back for at least one more season as the Baltimore Ravens have a legitimate shot at contending for a Super Bowl title next season.
3. Minnesota Vikings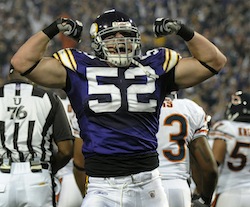 Last season the Minnesota Vikings went from just another good team in the NFL to a great team as they brought in future Hall of Fame quarterback Brett Favre and key defensive players in order to make this team a legitimate title contender in the very competitive NFC Conference.
Even though there was a lot of doubt surrounding this Vikings team led by a 19-year veteran quarterback, the defense was as solid as ever as Jared Allen and company quickly went from a good defensive side to arguably one of the best in the league.
Next season the Minnesota Vikings will hope to have Brett Favre back behind center for at least one more season, but the one part of their game that they aren't worried about is their defense which could finish the season as the league's best.