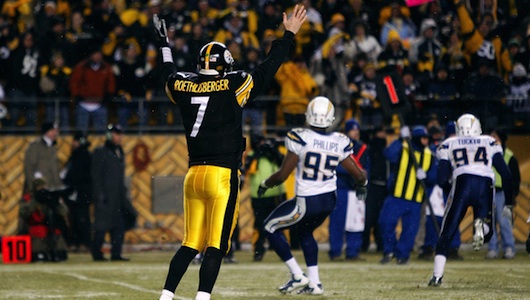 Bet the NFL Preseason Now – Click HERE
Ben Roethlisberger may be suspended for the first four to six games of the season but he reminded us that he's still one of the best players in the league.
Roethlisberger completed six of his eight throws for 76 yards against the New York Giants. He did not throw a touchdown, was picked off and sacked once but was efficient enough to assure the Steelers that his personal problems won't affect his play on the field.
"I don't care about the disruptions," Steelers coach Mike Tomlin said. "He's (Roethlisberger) a professional. His job is to play. He's done that and he needs to continue to do that. We'll deal with all the other things we need to deal with in the appropriate manner."
Bet NFL Football Now – Click HERE
Roethlisberger led a 58-yard drive that ended in a 26-yard field goal. He was efficient and constantly found rhythm. Definitely good news for Pittsburgh.
On the other hand, his replacement for the time being, Byron Leftwich was 3 of 6 for 95 yards including a 68-yard touchdown pass to Mike Wallace. Leftwich did not find success as a starter for the Tampa Bay Buccaneers last season, which should concern the Steelers while Roethlisberger serves his suspension. He is still susceptible to bonehead plays like the sneak he tried to pull off at the 1-yard line Saturday. The Steelers are hoping that Leftwich can hold down the fort for the first six games of the season.
"It's not an issue now," Steelers safety Troy Polamalu said. "When the season starts, it's going to be a whole different story. It will be interesting because we've never had to face something like that with a major role player on the team."
If Byron Leftwich struggles at the beginning of the season, Dennis Dixon is more than capable of taking over. Dixon completed 7 of his 8 attempts for 82 yards. He set up two scores that put the game out of reach for the Giants.
Roethlisberger will have a lot of catching up to do once his suspension ends but was fairly optimistic in his preseason stint.
"A lot of nerves, butterflies, excitement but to get back out there with the guys and get between the lines and the lights and the away stadium; it was awesome," he said.