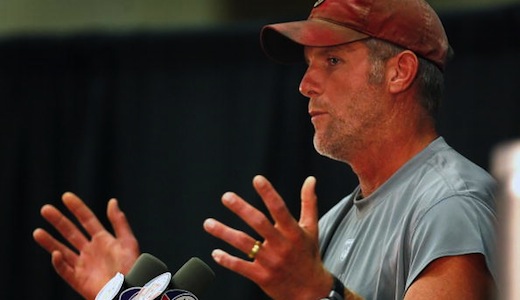 Bet the NFL Preseason Now – Click HERE
Last season the Minnesota Vikings went from a team that struggles to make the playoffs every single season to a possible Super Bowl title contender over the next couple of seasons.
There is no doubt that the Minnesota Vikings have always been a talented football team, especially on the offense of side of the football superstar running back Adrian Peterson coming out of the backfield and one always improving defense, but last year they finally got the missing piece the puzzle the franchise caliber quarterback in 11-time Pro Bowler Brett Favre.
With Brett Favre under center, the Vikings' offense was damn near unstoppable last season as the play action worked perfection and the presence of the three-time NFL MVP helped players like Percy Harvin and Sidney Rice turn into Pro Bowl caliber wide receivers. Not only was the offense firing on all cylinders with Favre, Peterson and Rice having career seasons, but the defense became arguably one of the best in the league led by Jared Allen.
So with a potent offense and a lockdown defense, the Minnesota Vikings were able to make it into the playoffs and cruise to the NFC championship game to take on the eventual Super Bowl champion New Orleans Saints.
Even though the Vikings had one hell of a season that could be considered one of the best in franchise history, the Saints were able to get the best of the Vikings in the NFC championship and beat them in overtime.
Bet on NFL Preseason Football – Click HERE
Unfortunately, despite Brett Favre having arguably the best season of his Hall of Fame caliber career (33 touchdowns, 4,202 yards and seven interceptions), the Silver Fox seems to be on the verge of retiring from the game he loves for the third time.
Recently, there were reports that Brett Favre had already made his decision and since his surgically repaired ankle wasn't healing the way he anticipated his decision was retirement. The reason for people believing that the Vikings' quarterback was calling it quits was that supposedly teammates were getting text messages from the 40 year old QB saying he was done, but all reports of these text messages have been proven wrong as Favre publicly said that he still hasn't made his decision.
Obviously, with his past history of waffling back and back about retirement that this news comes as no surprise, but you got to believe that the Minnesota Vikings are starting get a little bit frustrated with Brett Favre the same way the Green Bay Packers did a couple years ago.
There is no doubt in anyone's mind that having Brett Favre back under center makes the Minnesota Vikings a much better team, but the NFL regular season begins on September 9th (@ New Orleans Saints) for the Purple People Eaters and they still don't know who will be their starting QB.