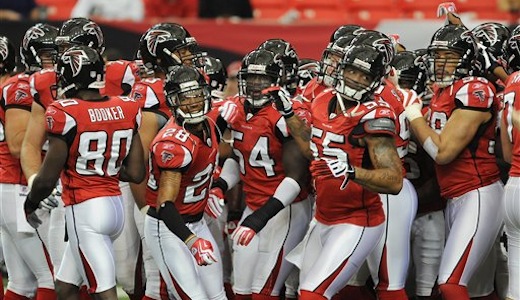 Atlanta Falcons @ Pittsburgh Steelers Sun. Sept. 12th 1pm EST
The Pittsburgh Steelers will be heading into this NFL regular season with an uphill battle ahead of them as they try and play to the best of their ability in the first six games of the season without starting quarterback Ben Roethlisberger under center.
Even though Big Ben may not put up the numbers of say Peyton Manning (Indianapolis Colts) or Drew Brees (New Orleans Saints), the quarterback has been essential to their franchise as he has lead them to two Super Bowl titles over the last five years.
Bet the NFL Season With Bodog Sportsbook
Unfortunately, due to suspension for violating the NFL's person conduct policy during the offseason, the Steelers will have to go with up and coming youngster Dennis Dixon for the first four games of the regular season. Most people have had their doubts about whether or not Dixon can get the job done for the Steelers as he has a much different approach to the game compared to Big Ben with a run first attitude, head coach Mike Tomlin has already come out and said that his two-time Super Bowl champion quarterback is not guaranteed a starting role when he comes back if Dixon plays well in these first four games.
So with a changing of the tide possibly on the horizon in Pittsburgh, the Steelers will have their work cut out for them in Week 1 by defending Heinz Field this Sunday against Matt Ryan's Atlanta Falcons.
Despite finishing last season with a 9-7 record and missing the playoffs, the Atlanta Falcons are coming into the 2010 NFL regular season with high hopes of being playoff bound and contending with the defending Super Bowl champion New Orleans Saints in the NFC South division.
It may be a stretch to say that Matt Ryan and company can beat out the Saints in the division they dominate, but with all three of their best players back healthy in running back Michael Turner, wide receiver Roddy White and quarterback Matt Ryan, the Falcons are looking as good as any other team in the league right now and have been a popular pick to at least clinch a playoff spot in the NFC Conference this season.
Bet NFL Football With Bodog Sportsbook
As for the Pittsburgh Steelers, they will be looking to turn things around after a dreadful title defense last season which ended with superstar safety Troy Polamalu being banged up for the majority of the year and being unable to clinch a playoff spot.
Fortunately, the Pittsburgh Steelers are confident they will get back on track this season, but it will be hard to overcome a team like the Atlanta Falcons in Week 1 as Matt Ryan and company will want to get out to a quick start and will be looking to take advantage of a team without their starting quarterback under center.
If Dennis Dixon has a big game and the Atlanta Falcons defense can't find an answer for his quick feet, this game will almost certainly tilt in the Pittsburgh Steelers favor, but I believe it will be the other way around as Dixon struggles and the Falcons start the season with a 1-0 record.