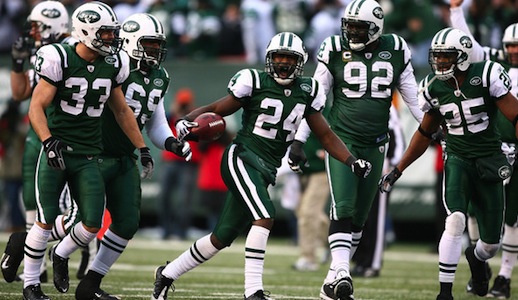 New England Patriots @ New York Jets
Over the past decade, the New England Patriots have absolutely dominated the AFC East division with little or no competition from any of the three other teams in the division.
Even though the New England Patriots have a great chance of coming out on top once again in the AFC East division this season, times might be changing as the New York Jets look like they are legitimate Super Bowl title contenders and ready to dethrone their division rivals.
Bet the NFL Season With Bodog Sportsbook
There is no question at this point in time that the New York Jets have arguably the best defense in the NFL, but after struggling to put points on the board in Week 1 against the Baltimore Ravens, their offense is in serious question as quarterback Mark Sanchez couldn't get anything going and whether or not their offense can complement their dominant defense remains to be seen.
In Week 2, the Rex Ryan's Jets will have their work cut out for them once again as they will go up against Tom Brady's Patriots who looked very good in their Week 1 win over the Cincinnati Bengals. Unlike the Jets, the Patriots main concern this season was on the defensive side of the football as they basically had to start from scratch after seeing many of their veterans either retire or get traded away over the past couple of seasons.
Fortunately, despite all of the obvious problems surrounding the Patriots defense, the young New England secondary were able hold their own against the high powered Cincinnati Bengals offense in Week 1 and proved to the rest of the league that they might be able to contend for a Super Bowl title this season.
The one thing that there is absolutely no doubt about heading into Week 2 against the division New York Jets is that the New England Patriots offense is firing on all cylinders as they were able to put up 38 points against the Cincinnati Bengals defense. Not only was Tom Brady back to form and looking like the dominant quarterback of old, but perennial Pro Bowl wide receiver Wes Welker showed that he is fully recovered and back to form as well with two receiving touchdowns.
Click Here and sign up for your Bodog account now
Coming into this Week 2 matchup between these division rivals, the one head to head matchup to watch for is arguably one of the best wide receivers in the league in Randy Moss going up against arguably the best cornerback in the NFL in Darrelle Revis.
It is no secret that there isn't much love lost between these two great NFL players as they have had some words for each leading up to this highly anticipated matchup, but it does make for some great NFL action as both of these perennial Pro Bowlers will be looking to go at each other all day long, but in my opinion it will be Randy Moss and company that come out on top.