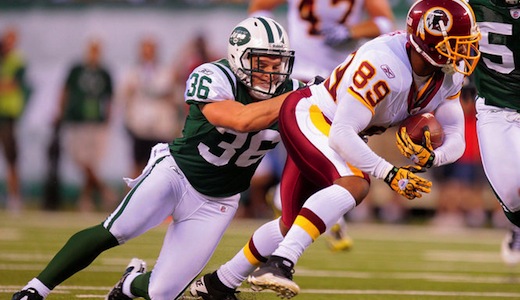 The Washington Redskins have been one of the surprise teams in the NFL this season, it may just be two weeks into the NFL regular season, but Donovan McNabb and company have played much better than anticipated by beating the Super Bowl title contending Dallas Cowboys in Week 1 and taking the Houston Texans to the limit in Week 2.
It could be the stability at quarterback with six-time Pro Bowler Donovan McNabb under center or two-time Super Bowl champion head coach Mike Shanahan calling the shots from the sidelines, but no matter what the difference is, the Washington Redskins are officially a force to be reckoned with once again in the NFC Conference.
Bet the NFL Season With Bodog Sportsbook
Down the stretch the Washington Redskins might find it tough to keep up with the Dallas Cowboys if they can turn things around this season, but as of right now, McNabb's squad looks playoff bound.
In Week 3, Mike Shanahan will lead his Redskins into St. Louis to face off against the lowly Rams. Even though the Rams seem to be vastly improved with number one overall pick and Heisman trophy winning quarterback Sam Bradford under center, but in the third game of the season the Rams could be in for what will almost certainly be their worst loss of the season against the Washington Redskins.
Much like the Redskins, the Rams Achilles heel seems to be the lack of a solid receiving corps, but that hasn't stopped either team's quarterbacks from having a decent start to the NFL regular season.
Obviously, Bradford is still a bit wet behind the ears and will take some time before he can be considered a legitimate force to be reckoned with in the NFL, but he has shown some signs of promise in the first couple weeks of the season.
There is no doubt that Sam Bradford has the ability to throw for over 300+ yards a game and a few touchdowns, but he also has the tendency to turn the football over as he has already thrown four interceptions in just two games.
Bet NFL Football with Bodog Sportsbook
Look for the Washington Redskins defense to take full advantage of Bradford's mistakes in Week 3 as I believe the defense will put some points on the board.
Along with Bradford almost certainly having a rough day, Donovan McNabb should have another big day in his encore to the 426 passing yards he had last week against the Houston Texans.
As of right now, the Washington Redskins are favored to beat the St. Louis Rams with -3.5 point spread, but I believe the Redskins will get their second win of the season with relative ease as they cruise to victory over a struggling NFL franchise trying to get their bearings.