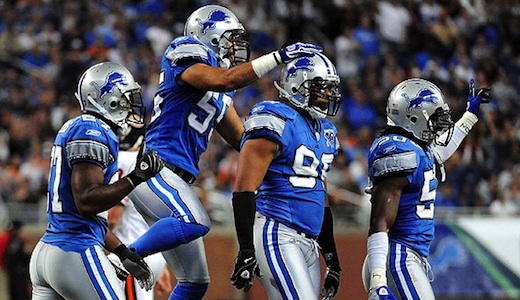 Detroit Lions @ Green Bay Packers Sun. Oct. 3rd 1pm EST
After the first two weeks of the season, the Green Bay Packers were looking like legitimate Super Bowl title contenders once again as perennial Pro Bowl quarterback Aaron Rodgers was playing better than ever and the Packers defense was top notch once again, but the cheese heads got a bit of a wakeup call in Week 3 after the division rival Chicago Bears handed their first loss of the season on Monday Night Football 20-17.
Bet the NFL Season with Bodog Sportsbook
Everyone knew that the Monday night showdown between the Bears and the Packers was going to be an all out battle from start to finish between two teams that really don't like each other that much, but not many people picked Jay Cutler and company to come out on top as the consensus was that the Green Bay Packers had the better team on both sides of the football.
Even though the loss to the Chicago Bears was disappointing to say the least for Mike McCarthy's squad as they not only lost the first game of the season, but also lost their first place standing in the NFC North division, Aaron Rodgers and company will be looking to get right back on track in Week 4 as they will be hosting the winless Detroit Lions (0-3) at Lambeau Field.
Despite losing three straight games to start the season, the Detroit Lions are a much better team than their 0-3 record suggests as they have a solid ground game with rookie running back Jahvid Best (California) coming out of the backfield and a surprising good passing game even without quarterback Matthew Stafford under center (shoulder injury).
Even though it was thought that Matthew Stafford might be ready for this NFC North division showdown with the Green Bay Packers in Week 4, apparently his injured shoulder isn't ready to go just yet and the Detroit Lions will start Shaun Hill in his place once again. Hill may be no Stafford, but he has turned out to be a pretty decent backup so far as he has thrown for 572 yards and three touchdowns in two starts.
Sign up for an Account at Bodog. Bet Now!
Unfortunately, even though Hill has played better than expected in his for two games as the Lions starting quarterback, he still turns the football over quite a bit as he has thrown for four interceptions in the last two games.
The one big question mark for the Detroit Lions against the Green Bay Packers will be the health of their rookie running back Jahvid Best. Last week Best went down with what is being called "Grade 2" turf toe which could knock him out of this game and turn the Lions offense into strictly an air attack, but he hasn't been counted out of this game just yet as the injury has been said not to be all that serious.
If Best does sit out of this game, I can't see any way the Detroit Lions contend with the Green Bay Packers in Week 4.