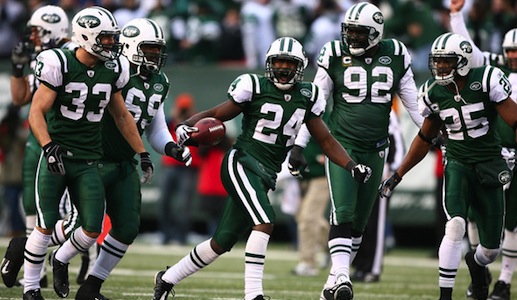 Bet the NFL Regular Season – Click HERE
Darrelle Revis has finally come to his senses and finally signed a contract with the New York Jets. He signed a four-year deal worth a reportedly $46 million. He held out just enough to skip all of training camp so head coach Rex Ryan doesn't know what kind of shape he's in.
It doesn't matter to Ryan because he knows that for his teams' secondary to be one of the best in the league, he's going to need Revis shutting down the league's best receivers. Revis can play the best receivers one on one.
With Revis' contract, he is now the highest paid corner back in the league. He deserves it but why did it take so long for the Jets to offer him an acceptable contract.
Ryan joked, "I do think we may play Revis, I'm not sure," coach Rex Ryan quipped. "I think he might need to practice for several weeks before we play him, but don't be shocked if he's out there."
Ryan played a part in the negotiation to bring Revis back.
The Jets did okay during the preseason without Revis. With the exception of Giants free agent wide receiver Victor Cruz running circles around the Jets secondary New York's defense handled pretty well.
Bet the NFL Regular Season at Bodog Sportsbook
The preseason showed that the Jets can succeed without Revis in the line-up. This is good because it means that Revis' secondary teammates are also improving. Against the Colts last year, Revis was the only one who had a spectacular game. The rest of his teammates played bad and allowed Peyton Manning to pick them apart.
Revis is the heart and soul of the Jets and without him, opposing teams don't fear them as much. Revis is the best corner in the game, proving time and time again that he can reduce the best receivers in the league to just going through route motions.
His teammates welcomed him to the field not with disdain but with open arms. Even they realize that he's talent is appreciated.
"It was kind of funny," safety James Ihedigbo said. "A bunch of guys started the Rudy clap, that nice slow clap, as he came out. We welcomed him with open arms."
Revis was humble when asked about the shape he's in. "I haven't had pads on and I haven't had contact," he said. "So that's something I have to get back into and just take it slow in the process."
The Jets are one of the teams that can win the Super Bowl this year and with Revis recent contract signing you'd be dumb not to believe it.
It's the Jets offense that should raise some concerns.