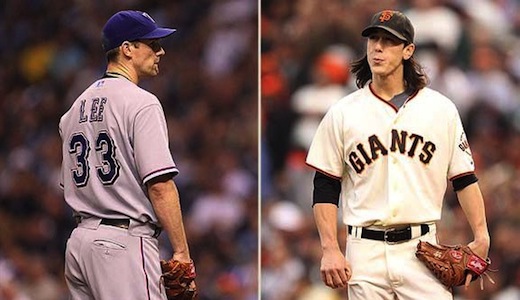 1. We have a series.
Many thought that the surprising heavy hitting of the Giants would doom the Rangers. Especially after the Giants worked postseason legend Cliff Lee. But after Rangers winning one in Texas and (at the time of this article) probably another one in Game 4 to tie the series, we could be in for a long ride. This year's Series has brought a lot of unexpected events. First, there was the unraveling of Lee. Second were the heavy bats of San Francisco, which should've belonged to the Rangers. Now, it's a former Japan pitcher who has given new life to the Rangers. Everything we thought would happen did not. Instead, it seems we're headed towards an exciting ending.
2. Colby Lewis did was Lee couldn't.
As many of us know, Lee suffered his first loss of the postseason in Game 1 of the World Series. What has gone overlooked is Lewis building his own postseason reputation. He is now 3-0 in the playoffs this year. Lewis beat the Yankees twice and saved the Rangers' season by winning a critical game 3.
3. What happened to the pitching?
San Francisco's bullpen gave opponents a tough time during this year's postseason. So did the Rangers. You can't help but ask where the itching has gone during the World Series. Probably a new theory is developing in this era. Pitching is overrated and the key to the playoffs is hitting.
4. Juan Uribe who?
Uribe was golden for the Giants in San Francisco. He had five RBIs in San Francisco alone, but all of a sudden Uribe was out of place in Texas. The right hander failed to generate any offense for the Giants in Game 3. No doubt he is the key for the Giants.
5. Who wins?
With both teams being pushed to the limit in the Series, it's hard to discern who actually has the advantage. Momentum, apparently, is overrated. San Francisco was overwhelmed in their trip to Texas. So were the Rangers in San Francisco. Maybe home field advantage is indeed underrated in baseball.