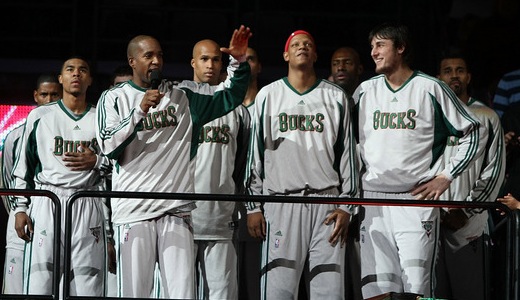 Milwaukee Bucks at New York Knicks Weds. Feb. 23, 2011 7:30 p.m. EST
The New York Knicks made some pretty big headlines yesterday when they were finally able to get a deal done to bring superstar forward Carmelo Anthony to the Big Apple from the Denver Nuggets. Not only were they able to bring another big-name to play alongside Amare Stoudemire at Madison Square Garden, but they were also able to bring in some veteran leadership as well in the form of NBA champion point guard Chauncey Billups.
It could be argued that the New York Knicks gave up too much for the All-Star forward as they did have to part ways with promising young players like Raymond Felton, Wilson Chandler and Danilo Gallinari to get a deal done, but they may have cemented their future with another superstar.
Bet the NBA Season with Bodog Sportsbook – Click Here to get your Betting Account
Not only will Carmelo Anthony give the New York Knicks the much needed star power that flourishes in the Big Apple, but the addition of Melo could potentially bring in more big-names in the offseason like Deron Williams, Steve Nash (via trade) or Chris Paul. Those are just three of plenty of players that could end up with the Knicks in the next free agent period or via trade, but one thing is for certain, New York is finally relevant again in the basketball world.
Even though sometimes it can take a week or so to get a new big-name acquisition on the floor, the New York Knicks might have their new superstar in uniform and ready to go this Wednesday night at Madison Square Garden against the Milwaukee Bucks.
This could be the perfect way to usher in Carmelo Anthony to the New York Knicks as the Milwaukee Bucks aren't exactly the Boston Celtics and with New York taking on LeBron James and the Miami Heat this Sunday; this could be a good way to get some team chemistry going.
Bet on NBA and NCAA Basketball with Bodog Sportsbook
Obviously, the true test on whether or not this new dynamic duo will work out is against the Miami Heat, but I believe this somewhat meaningless game against the lowly Bucks could be a barometer or things to come. Much like with the Miami Heat when they first started with their new players, the New York Knicks will need some time to get used to playing with each other, but being in the Big Apple they demand success almost immediately, so the pressure will be on.
It will be interesting to see what happens on Wednesday night in the Big Apple as this could be the beginning of great things to come for the New York Knicks, but unfortunately it will be a must win situation as the Knicks pulled a lot of strings and took a big gamble brining in one of the best offensive players in the game today.