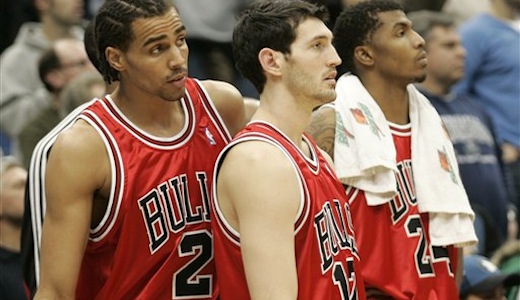 #1 San Antonio Spurs (46-10)
The Spurs may have may suffered a disappointing loss to the Bulls heading into the All-Star break, but they are still without a doubt the best team in the league and a sure bet to come out on top on a nightly basis. If the two-time defending NBA champion Lakers can get back on track in the second half of the season, San Antonio might be in for a challenge, but they seem to have the top seed in the West wrapped up.
#2 Dallas Mavericks (40-16)
The Mavs are putting on a show once again during the NBA regular season as they are sitting comfortably in the second seed in the West. A trade might be on the horizon however as Mark Cuban never seems content with his squad, but regardless of moves they may make, they are going to be tough to beat this time around.
As long as this team stays healthy, the Mavs will be a force to be reckoned with in the West come playoff time. The Lakers might be able to compete for the second spot, but the most likely scenario will be Dallas at the second spot in the West.
#3 Chicago Bulls (38-16)
As arguably the new best point guard in the NBA, Derrick Rose has quickly become the leader of this team and the face of the franchise. Along with leading Chicago to an impressive 38-16 record, Rose is the league's frontrunner for NBA MVP.
With Joakim Noah healthy and ready to play alongside Carlos Boozer, this team will only get better throughout the second half of the season.
#4 Boston Celtics (40-14)
In my opinion, the Celtics should be #2 on this list as they are playing arguably some of the best team basketball in this league, but they have hit a few bumps in the road. In the end, Boston will be the beast of the East and the top seed in the conference.
As long as they can stay healthy and continue to play at a high level, the Celtics will be tough to beat from here on out and might be headed for their third NBA Finals appearance in four years.
#5 Miami Heat (41-15)
Not sure why the Heat are fifth on this list, but with a record of 41-15 they have a legitimate shot of being a high seed in the East when it is all said and done. With the losses to the Celtics earlier in the season, it will make it tough for LeBron James and company to contend for the top spot in the East, but they will almost certainly be a force to be reckoned with when they get into the postseason.
#6-10 Orlando Magic (36-21), Los Angeles Lakers (38-19), Oklahoma City Thunder (35-19), Portland Trail Blazers (32-24) and Memphis Grizzlies (31-26)