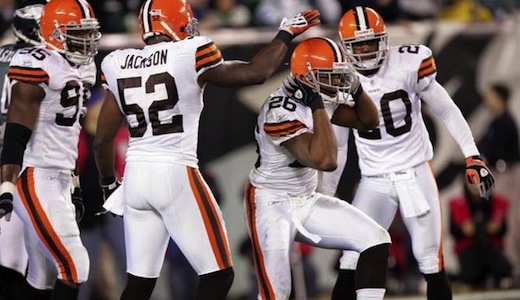 Cleveland Browns @ Philadelphia Eagles Thurs. Aug. 25, 2011 7:30 p.m. EST
As perhaps two of the most talked about teams during the NFL preseason, the Cleveland Browns and the Philadelphia Eagles are set to go head-to-head on Thursday night in Philly with superstar quarterback Michael Vick looking to redeem himself for his awful performance last week (three interceptions) and up-and-coming quarterback Colt McCoy trying to continue to improve under center for Cleveland.
Bet on NFL Games with Bodog Sportsbook – USA Players Accepted
The Philadelphia Eagles may have made all sorts of moves in the offseason in order to improve their franchise with additions like Dominique Rodgers-Cromartie, Vince Young, Nnamdi Asomugha, Ronnie Brown and Steve Smith, but they haven't looked that great on either side of the football in their first two preseason games. This is just the preseason and none of these games count once the regular season gets underway, but with some many new faces in Philly this team wants to fire on all cylinders before Week 1.
With that being said, Michael Vick and company will want to get back on track this Thursday night defending their home field in Philly. Michael Vick is most likely the one player on the Philadelphia Eagles that would like to turn things around immediately after struggling against the Pittsburgh Steelers last week which means the Cleveland Browns defense could have their hands full in the first few series of this preseason showdown.
As for the Cleveland Browns, the struggling NFL franchise has finally seen some light at the end of the
tunnel with quarterback Colt McCoy coming into his own as the leader of this team and running back Peyton H
illis quickly turning into one of the best players at his position in the NFL. McCoy didn't really impressive anyone in his rookie season in Cleveland, but Browns president Mike Holmgren didn't lose faith in the former Texas Longhorn as he saw a lot of potential in the young gunslinger.
In the first two preseason games against the defending Super Bowl champion Green Bay Packers and the Detroit Lions, Colt McCoy has thrown for 235 yards and four touchdowns. These might not be eye-popping numbers for superstar quarterbacks like Michael Vick and Aaron Rodgers, but for second-year quarterback Colt McCoy that is extremely impressive and a good sign of things to come in Cleveland.
Bet on your Favorite NFL Team with Bodog Sportsbook
On Thursday night, Colt McCoy will try to keep his foot on the gas pedal when going up against the new-look defense of the Philadelphia Eagles. It might be tough for the promising young quarterback to have a repeat performance this week as he will have Nnamdi Asomugha and Dominique Rodgers-Cromartie staring him down in the Philly secondary.
Colt McCoy and the revamped offense and defense of the Philadelphia Eagles will be what to watch in Thursday night's showdown between two teams that could very possibly be playoff bound this season. Michael Vick will also be looking to turn some heads in this game which makes this preseason matchup a must see for avid football fans.