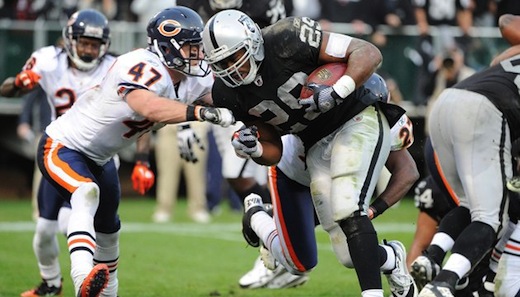 The AFC West division has quickly turned into one of the most competitive divisions in the NFL this season. With the division title up for grabs with the Denver Broncos and the Oakland Raiders battling back and forth, every game from here on out is extremely important for these two up-and-coming football teams.
Bet on NFL Games with Bovada Sportsbook – USA Players Accepted
Now that both the Broncos and the Raiders have seemingly found their starting quarterbacks for the foreseeable future in fan favorite Tim Tebow and one-time Pro Bowler Carson Palmer, Denver and Oakland are shooting for the playoffs this season and both teams seem to have a legitimate shot of making it into the postseason.
Heading into Week 12, the Oakland Raiders had arguably the toughest test of any team in the AFC West as they had to face off against the lockdown defense of the Chicago Bears. With the Bears winning five straight coming into this matchup, the Raiders definitely had their work cut for them, but did get a slight edge after the potentially season-ending injury to franchise quarterback Jay Cutler (broken thumb).
With Cutler helpless on the sidelines, the Chicago Bears had to turn to backup quarterback Caleb Haine to lead this team on offense. Haine was somewhat impressive in the NFC Championship game last season against the eventual Super Bowl champion Green Bay Packers, but that wasn't the case on Sunday in the Bay Area as the backup quarterback struggled all day long.
Caleb Haine did throw for 254 yards and two touchdowns, but he also threw three costly interceptions that turned out to be the difference in this Week 12 showdown. Raiders quarterback Carson Palmer wasn't that much better with 301 yards passing, one interception and no touchdown passes, but the Oakland running game and kicker Sebastian Janikowski made up for the weak passing game as backup running back Michael Bush rushed for 69 yards and one touchdown while Janikowski had a career day with six field goals and one extra point.
Needless to say, the Chicago Bears were outplayed in Week 12 as the Oakland Raiders continue to make strides in their effort to get back to the playoffs for the first time in franchise history. The Raiders went on to beat the Bears, 25-20.
Bet on your Favorite NFL Team with Bovada Sportsbook
With this win, the Oakland Raiders improve to 7-4 and are still sitting in first place in the AFC West division. The Denver Broncos are still hot on the trail of their arch division rivals as they were able to get the best of the struggling San Diego Chargers in order to improve their record to 6-5.
It will be interesting to see how things pan out in the AFC West because right now it could go either way with the Broncos or the Raiders coming out on top and being playoff bound.