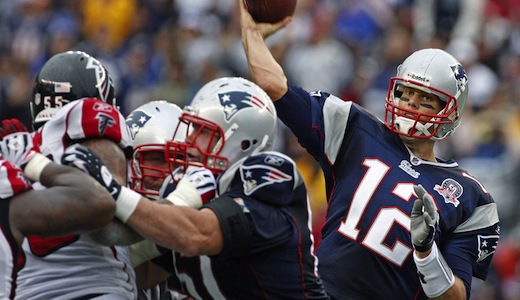 The AFC Championship has come and gone with the New England Patriots being Super Bowl bound once again. Even though the Patriots were the favorites to come out on top and with good reason, the Baltimore Ravens put up one hell of a fight and could've very well been the team to advance. The Ravens had two chances to either win the game or send it into overtime if wide receiver Lee Evans would've held onto a touchdown pass or kicker Billy Cundiff would've hit a 32-yard field goal with time expiring.
Bet on the NFL Playoffs with Bovada Sportsbook – USA Players Accepted
With Evans dropping a sure touchdown and Cundiff choking on a chip shot field, the Baltimore Ravens just couldn't get a break late in the game against the New England Patriots at Gillette Stadium in Foxboro. There is no question that the Ravens were worthy of advancing to the Super Bowl for the first time since 2000, but fate was on the Patriots' side on Sunday and now New England will go to yet another Super Bowl in the Bill Belichick era.
So with a missed field goal by Ravens' kicker Billy Cundiff with 11 seconds remaining in the fourth quarter, the Patriots went on to win this AFC Championship game by a score of 23-20. Even though the Patriots did come out on top in this game to advance to the Super Bowl, two-time NFL MVP quarterback Tom Brady had a rough game with two interceptions and no touchdown passes thrown. Despite not being able to throw and TDs in this game against the Ravens, Brady did rush for a touchdown and helped New England ultimately get the win.
One of the key players for the Patriots in the AFC Championship was running back Benjarvus Green-Ellis. New England isn't known for their running game, but without a solid performance out of Green-Ellis they would not be Super Bowl bound. The Patriots' running back finished with 68 yards on 15 carries and a rushing touchdown.
Bet on your Favorite NFL Team with Bovada Sportsbook
As for the Ravens, Baltimore got the job done offensively through the air. Joe Flacco actually outplayed Tom Brady in this game with 306 passing yards, two passing touchdowns and just one interception. So despite the criticism Flacco has received in the past, the Ravens' starting quarterback was able to come through when it counted and would've had the game-winning touchdown pass if Lee Evans would've held onto the football in the endzone.
Unfortunately for Baltimore, Joe Flacco's impressive performance wasn't enough to get the best of the New England Patriots. Now Tom Brady and company will head to Indianapolis to face off against the New York Giants in a rematch of the 2007 Super Bowl in which Eli Manning and his boys ended the perfect season for Bill Belichick's seemingly unbeatable team.