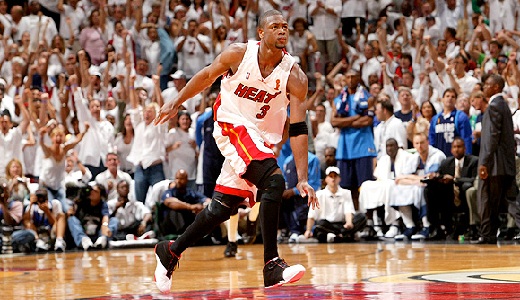 The Heat and Celtics are set to battle in the first game of their series on Saturday. In earlier action, the Cavs (well, Lebron), were able to top the Bulls and Atlanta got off to a hot start against the Bucks. The home teams have been on fire, but Miami can dominate anywhere, the court's logo is largely irrelevant. The Celtics have not live up to expectations in 2010, after being forced to ride out numerous injuries and general lackluster performances. Today's game is the first game of meaning for the Celtics in quite awhile (though the same can be said for the Heat), and they will need to shake off the rust.
Dwyane Wade is one of the top players in the NBA, and he certainly is better than anyone that the Celtics have. He can dominate a game by himself, or he can work his teammates into the flow. Wade always finds a way to get it done. You know he wants this game bad. Boston has won a championship, but Miami has gone a few years since their last title. Without Shaq, Wade wants to prove he can win on his own. He has the weapons on his team, he is a force by himself, and he knows how to win.
The spread is around +4.5 for the Heat, but you have to figure they have a legitimate chance to walk away with the win today. In sacrificing 4.5 points, you can take the money line at +170. This is certainly a profitable bet in the long run, assuming that the Heat show up today. They are prone to some droughts in their games, but in the end, Miami is much better than +170 on the money line. Even if Miami loses today, they are not a long shot by any means.