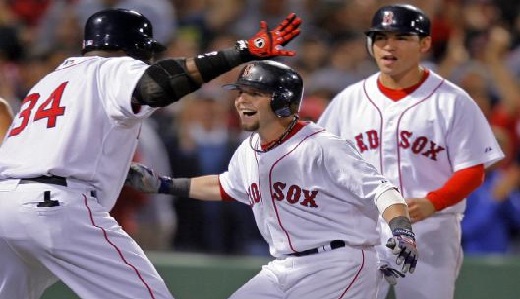 The Rays and Red Sox played on Friday night, but the game was suspended due to rain. Tonight both teams will look to battle again, hopefully getting a full game in. While Friday brought a low scoring contest (it was 1-1 when the game was called), Saturday should be different. James Shields and Clay Buchholz are prone to giving up tons of runs, particularly Buchholz. Beyond this, both teams have very explosive offenses, even if Boston's early 2010 record indicates otherwise. The Red Sox have been off a rough start (by Boston standards) and they are bound to turn it around.
We all know who the weapons are on Tampa Bay. Stars like Evan Longoria, BJ Upton, and Carl Crawford post runs like it is their job (because it is). On the other side, the Red Sox have the offensive firepower to crush any pitching, assuming that it wakes up. Victor Martinez was day to day, but beyond Martinez, the Red Sox have perennial powers like Jeremy Hermida, Dustin Pedroia, and Kevin Youkilis. The pitchers in this game, however, are what will really allow for the offenses to breakout.
Any time that the Red Sox and Rays face each other, it is a tough game to pick when it comes to the run line or money line. Of course, if there is some great lines being spread, that is an exception to the rule. On Saturday, the lines for this game are quite tough. To help avoid a tough decision, instead take a look at the over/under. The offenses are both powerful, the starting pitchers are not elite by any standards, and 9 runs can easily be covered by one team, let alone two. Over 9.5 I would be hesitant to take this  line, but at 9, it should be a rather safe bet.
One Response to "Tampa Bay Rays vs. Boston Red Sox 4/17"