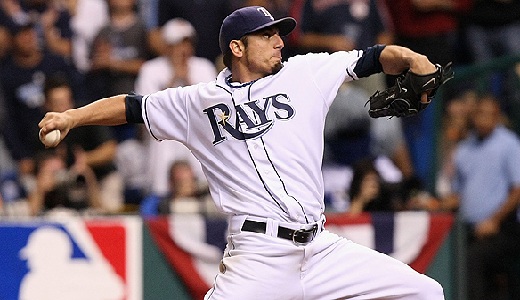 Tampa Bay is going for yet another win against the Red Sox on Sunday, and it would be their third in a row against Boston. Aside from continuing their winning streak against Boston, the Rays are also aiming for their sixth consecutive win overall, having taken a few from the Orioles prior to this series. The Rays and Red Sox were postponed on Friday night due to rain, and were forced to finish their game on Saturday as part of a double header. The Red Sox had an opportunity in extra innings to close out the game when they loaded the bases, but they blew their chance and ended up losing the game 3-1. Weak offensive production has been a running theme for Boston over the past couple of weeks. They are a bit banged up, with Victor Martinez at least, but losing a bat like David Ortiz can really deplete a lineup. They did, however, post five runs in their second game on Saturday, but were of course unable to come up with the win.
Sunday's game is intriguing, if only because of the slide that the Red Sox are on. They can't seem to buy a game, let alone legitimately compete for one. Sunday is not going to be an easy win by any means, as Boston will have to contend with Matt Garza. Garza has been a powerhouse ever since he moved over from the Twins to the Rays a few years ago. Opposing Garza is Jon Lester. A lot was expected from Lester in 2010, but he has not performed to the fullest of his ability. His ERA for 2010 is over 7, and he has yet to add a win to his record. It could be that Lester struggles early on, or perhaps he just isn't on top of his game this year. Either way, his lackluster performances are a good reason to bet against him.
The offensive story is the same as it always is. Boston needs Dustin Pedroia, Jeremy Hermida and company to kick themselves into gear, because otherwise it will be a very long season. The Rays have had little trouble producing offense, and Tampa Bay's studs, for the most part, have come to play. Bet on the money line in this game. If you read this article, you would think that Tampa Bay is the heavy favorite, but this is not the case. The Rays are actually +120 on the money line, so there is a great chance for profitability. If the Rays are indeed an underdog in this game, it certainly isn't by much.