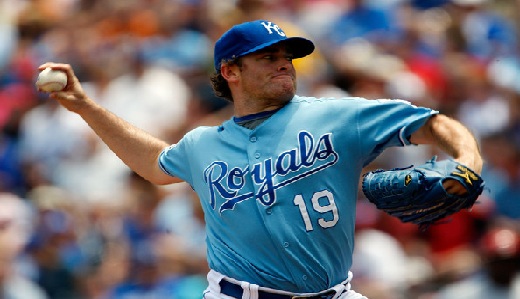 The Toronto Blue Jays got off to a very hot start in 2010, but they have begun to cool off. At 7-6, the Blue Jays are still holding onto a better record than most expected. On Monday they will start a new series against the Royals. Toronto just wrapped up a series against the Los Angeles Angels of Anaheim, and are going to stay in Toronto for his series against Kansas City. It seems as though Toronto is better off on the road, for whatever reason. Kansas City hasn't been a slouch this year, posting some impressive wins and keeping themselves in games where most figured that they didn't have a shot. Many bettors have passed up Kansas City, but they are certainly worth a look. Part of their success was due to some great starting pitching from Brian Bannister. Bannister will have a shot to keep his ERA below 3 when he faces the Blue Jays on Monday.
Brandon Morrow is getting the start for the Jays. Morrow has struggled mightily in 2010, despite a decent season in 2009. His ERA is sitting at 12 and things have not been going well at all. If Morrow is unable to perform on Monday, it is certainly possible that he will get a ticket to Triple A. He is fighting for a roster spot on Monday when he faces the Royals, and the pressure is on.
Both teams have their fair share of offensive weapons, with Toronto's Adam Lind being the biggest bat between the two teams. He has whacked a handful of home runs in 2010 after signing a big contract with the Jays in this past off season. Aside from Lind, this match up is void of any real superstars. Both teams have hitters that can put up runs, though, so don't expect this to be a low scoring affair.
The best bet in this game is the 1st Five Innings bet, available at Sportsbook.The Royals are even money in this game on the money line, while Toronto is at -120. The problem with taking the money line is that Kansas City's bullpen is below average at best. It would be terrible to see Bannister toss a great game only to see it was all for not when the Royals relievers come in the game. If you can lock up Kansas City at -120 or better on the 1st Five Innings bet, take it.