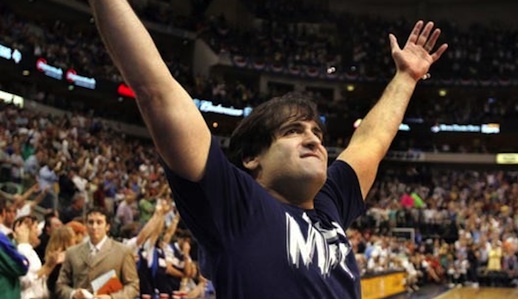 Throughout the history of professional sports in this country we have seen some pretty outspoken owners from the MLB, NFL and NBA franchises.
Most owners take the approach of not being in the public eye and keeping to themselves while watching their teams play from a luxury suite, but then there are quite a few others that like to take a more hands on approach and be involved as much as possible.
In the MLB, there is George Steinbrenner of the New York Yankees. Although he isn't seen much by television cameras anymore, Steinbrenner makes his presence felt with his checkbook as he has no problem dishing out the big bucks to get players like Alex Rodriguez and C.C. Sabathia.
In the NFL, there are two prominent NFL franchise owners that frequently make headlines for their antics. One of which is actually a former head coach in the Oakland Raiders Al Davis. Even though he has been around a long time and been quite successful for the most part, his Oakland Raiders have really struggled over the past decade and Davis has done his part in alienating players and coaches alike to show his discontent for losing.
Along with the near senile Al Davis, the NFL also has one other owner that gets a lot attention in the Dallas Cowboys Jerry Jones. Much like Steinbrenner with the New York Yankees, Jones has no problem putting up the money to sign big name players or to build billion dollar stadiums.
Even though all of these famous owners have been around for quite some time now, the one owner in professional sports who makes more headlines than any of them these days is the Dallas Mavericks Mark Cuban.
Jerry Jones, Al Davis and George Steinbrenner may have the championship rings and banners to display in their stadiums, but Mark Cuban is still trying to do everything within his power to make the Dallas Mavericks a title contending team in the NBA.
Over the past decade or so, Cuban has been able to completely turn around this struggling NBA franchise as he has made a point of it to sign and or trade for big name players like Dirk Nowitzki, Jason Kidd, Shawn Marion and Caron Butler in
order to compete for an NBA title every single season.
Even though Cuban seemed to have the right pieces to the puzzle back in 2006 when the Dallas Mavericks made it all to the NBA Finals, the Miami Heat were able to comeback from a 0-2 deficit and beat the Mavs to win their first NBA title in franchise history. This was a severe blow to the Mavs to say the least as they seemed destined to win a title that year, but just couldn't play consistently well in the NBA Finals against Dwyane Wade and Shaquille O'Neal.
Needless to say, Mark Cuban had a taste of what it could have been like to win an NBA title and has been dying to get another taste ever since. Unfortunately, the Mavs just haven't been able to compete with the best of the best in the Western Conference and have been knocked out of the early rounds of the playoffs ever since that magical season in 2006.
This summer things could drastically change for the Dallas Mavericks as arguably there will be a number of big name free agents available to the highest bidder, including Dirk Nowitzki who could opt out of his current contract.
Even though there are plenty of game changers out there like Dwyane Wade, Chris Bosh and Amare Stoudemire, the one free agent that every NBA franchise wants to get their hands on is LeBron James.
Obviously, chances are that LeBron James will just re-sign with the Cleveland Cavaliers, but there is a possibility that he might go elsewhere and that has led Mark Cuban to believe that he has a legitimate shot at landing arguably the best player in the league today.
The only way that LeBron could come to Dallas though would have to be through a sign-and-trade deal. This way the Cleveland Cavaliers aren't left with nothing and would have the possibility of getting Dirk Nowitzki in the exchange.
The future is still very much uncertain for LeBron James, but one thing is for certain and that is Mark Cuban will do what he can to bring him to Dallas.