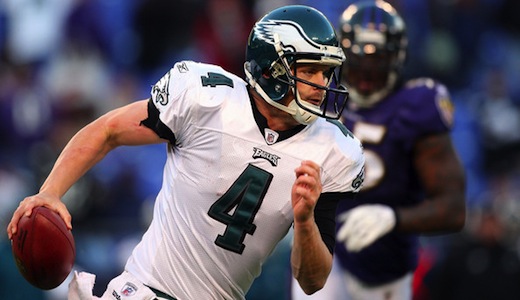 Start the NFL Season With Bodog Sportsbook
Kevin Kolb was drafted by the Eagles in the second round of the 2007 draft. Since Philadelphia still had Donovan McNabb, Kolb was relegated to being the number two QB.
With McNabb traded to the Redskins in the offseason, Kolb has become the Eagles starter three years after he was drafted. The Eagles are expecting to make the playoffs this season but that will depend on how quick Kolb has adjusted to being the leader of the team. Judged by his determination, Kolb is ready.
"Obviously my goal is to be the starter and to start for 16 games and to lead this team as far as we can go. Personally, I don't have a lot of personal goals right now, they're more team-oriented, besides me getting on the field and proving I can take over this thing."
In his first preseason game against the Jacksonville Jaguars, Kolb was on target. He was 6 of 11 for 95 yards. He was very impressive and looked more than capable to lead the Eagles in the post-McNabb era. Aside from being accurate, Kolb was also able to buy time with unexpected scrambling skills. Michael Vick was also impressive against Jacksonville but it's still not enough to bump Kolb from his starting spot.
Bet the NFL Preseason Now – Click HERE
"We know we're talented," Kolb said after the Eagles first preseason game. "We know there's talent on the field all over the place. We just have to execute. We're doing our own thing. We don't need to force anything. We're a young bunch. We're excited about the way we started things today and we just need to keep moving forward next week."
In the Eagles second preseason game, Kolb, again, displayed his accuracy by completing 11 of his 17 attempts for 126 yards.
In both preseason games, there is one flaw in Kolb's game. He can't seem to convert successful drives into touchdown scores. Kolb was successful in marching the Eagles down the field to set up scoring opportunities but the drives have only resulted in field goal kicks. Coach Andy Reid needs to figure out how to set up easier scoring opportunities for Kolb and his receivers. If Philadelphia can't score in the end zone, Kolb will face the same criticism his predecessor experienced.
Once the honeymoon period is over and the Eagles start losing back-to-backs, Kolb will be faulted. It's unfair but that's how it is.
Of course, when the Eagles start winning Kolb will be praised for his leadership and ability to win.
Kolb has a golden opportunity here to prove he is a starter and by the looks of it he is determined to stay at that position.