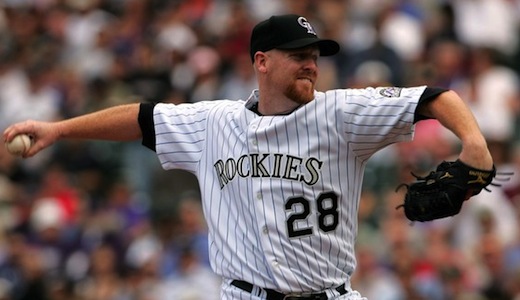 Bet on Major League Baseball Now – Click HERE
Rockies Rally
The Rockies found themselves down by 9 runs in the third inning but rallied to beat the Braves 12-10.
Troy Tulowitzki scored on an RBI single in the eighth to give Colorado the lead. Carlos Gonzalez tied the ball game with a two-run single then Tulowitzki and Todd Helton brought in two runs in their at bats.
"This was a heck of a game," Helton said. "It would have been easy to fold it up, but we didn't. We went out there and had an unbelievable wi
Colorado trailed 10-8 in the eighth before the four-run rally that sealed the game.
The Braves did not score in the last six innings.
Colorado manager Jim Tracy was proud of his team. "What an effort," Tracy said. "The thing I've fallen in love with these players is they don't quit. We were short-handed pitching and then offensively, here we go, and we started chipping away. This is the icing on the cake."
Bet on Major League Baseball Now – Click HERE
Reds Close Door on Giants
The Cincinnati Reds were up as much as 9 runs against the San Francisco Giants but needed 12 innings to win the game.
Joey Votto blasted two homers, had four hits and four RBIs for the Reds.
"For us to play as well as we did and to still be able to come back and win sure means a lot to all of us," Votto said. "Zito is difficult to face because he knows exactly what he wants to do. I'm just trying to put the ball in play and I end up finding a hole."
Ryan Hanigan and Drew Stubbs also had one homer each.
Cincinnati burst out of the gates in the first inning, hitting three homers to take an early 4-0 lead.
San Francisco was trying for a sweep of the Reds. Barry Zito was disappointed with the rally that wasn't. "It just feels terrible to let the team down in a situation where we come back from 10-1," Zito said. "It could have been a huge sweep for us. It's frustrating as ever but they hit the pitches I was making."