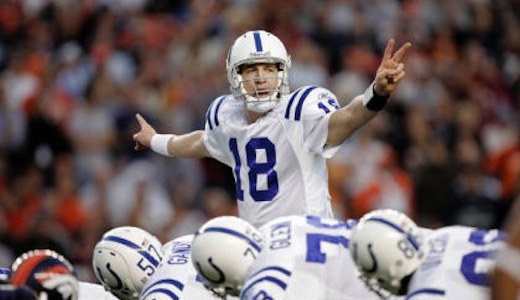 Bet the NFL Preseason Now – Click HERE
There have been a lot of great quarterbacks to come and go in the NFL over the years, but few can be compared to the likes of Indianapolis Colts Peyton Manning.
No matter what changes the Colts may go through or what new players they might bring in from season to season, Peyton Manning always seems to turn this Indianapolis NFL franchise into a perennial Super Bowl title contender as he has the ability single-handedly control the fate of this team and steer them in the right direction.
With four NFL MVP awards to his credit and one Super Bowl title, Peyton Manning could retire tomorrow be considered one of the greatest quarterbacks ever play this game, but even though he's not getting any younger, he is still arguably the best quarterback in the NFL today.
With that being said, the Indianapolis Colts are ready to make their superstar quarterback the highest-paid player in the NFL as they will do anything to avoid Manning becoming a free agent in the near future.
Ideally, the Indianapolis Colts would like to sign Peyton Manning to contract extension before the upcoming NFL season as they will make their quarterback confident in his future with the team and a very rich man.
Bet on NFL Football Now – Click HERE
Unfortunately, Peyton Manning isn't the only big-name quarterback that is due for a contract extension as Donovan McNabb (Washington Redskins), Drew Brees (New Orleans Saints) and Tom Brady (New England Patriots) are also on the verge of signing lucrative contract extensions with their current teams.
With these three other prominent quarterbacks on the verge of signing a new deal with their teams, the Indianapolis Colts are stuck in somewhat of a dilemma as they want Manning to be the highest-paid player in the league, but might have to wait until McNabb, Brees and Brady sign their extensions to do so.
As it is with any other position on an NFL team, big-name players set the bar at which a contract can be negotiated the only other big-name player at the quarterback position and has signed contract recently has been St. Louis Rams rookie Sam Bradford.
The Oklahoma Sooners' gunslinger and former Heisman trophy set a new rookie record for guaranteed money as he signed a contract worth $78 million dollars over six years with $50 million being guaranteed.
At the moment Bradford's contract has set the bar with Tom Brady, Drew Brees and Peyton Manning waiting to see how their franchises can top this contract given to a rookie quarterback that has yet to play a single down in the NFL.
Even though no financial details have been given about a possible contract extension for Peyton Manning, the consensus is that it will be the biggest contract in NFL history in the range of $100+ with more than $50+ million guaranteed.
Unlike Sam Bradford, who could easily turn out to be a draft bust like Ryan Leaf or JaMarcus Russell in the near future, Peyton Manning is worth every penny and will be a solid investment for the Indianapolis Colts.