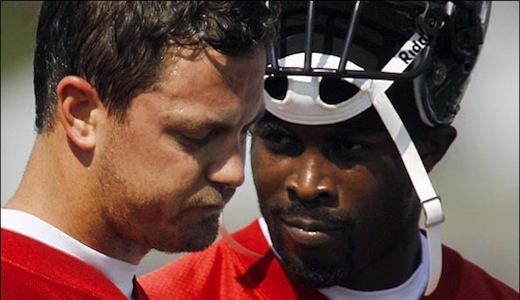 Philadelphia Eagles Andy Reid backtracked on his decision to start Kevin Kolb on Sunday against the Jaguars and named Michael Vick the starter.
Reid simply caved in to the popular demand of the Eagles faithful. You know how patient and understanding they are once the going gets tough. Sarcasm much? Reid wanted to position himself in a win-win situation. If the Eagles lose, then it isn't his fault because he gave what the fans wanted and can argue that Vick has been playing out of his mind lately. It would be a travesty to fix something that ain't broke. If the Eagles win he looks like a genius and tells everyone he knew Vick was ready.
Bet the NFL Season With Bodog Sportsbook
It isn't about developing Kolb along with his young receivers anymore. It's about Vick's feel good comeback story. Most of us would be lying if we say that we never wanted to see Vick make a successful comeback in the NFL. In fact maybe most of us rooted for him to get his life back together and work his way back to the league. Pay his dues. Reid gave in to our sentiments. As shameful as it might be to root for an animal rights felon, we can't avoid a feel good comeback story.
Kolb has just played in two quarters this season. Reid didn't even give the kid a chance to settle in and get into rhythm. During the preseason, the inconsistent coach raved about Kolb's abilities and talents. Now, the same coach who showed confidence in him threw him under the truck. No doubt that this move will damage Kolb's confidence in the future. His demotion to back-up quarterback hinders the plan to develop him along with the Eagles receiving corp.
So far Kolb has gone along with this shenanigan. He declared his future with Philadelphia as "bright as ever" despite the recent reports from the blogosphere that there have been inquiries from other teams about his availability. He could easily demand a trade and start for the Cardinals or the Bills. His development unimpeded by a lurking former Pro Bowler or a flimsy floosy coach.
Bet the NFL Season With Bodog Sportsbook
With all the flak Reid has gotten in the past days, his naming of Vick as a starter is justified. Philadelphia's offensive line is pretty weak and Vick's athleticism hides it. He has already absorbed eight sacks despite his ability to escape on-rushing defenders. One can't help think how many sacks and concussions a pocket quarterback like Kolb will suffer with Philadelphia's O-line.
So Vick or Kolb? Kolb may actually need time to sit, watch and learn from an All-Pro quarterback like Michael Vick. He looks like a tough customer (judging from his keenness to get back into a game after suffering a concussion) so hopefully this move doesn't mess with him mentally. So, we say keep Kolb for the long term. And with the Eagles present problems, Vick is a safe bet.