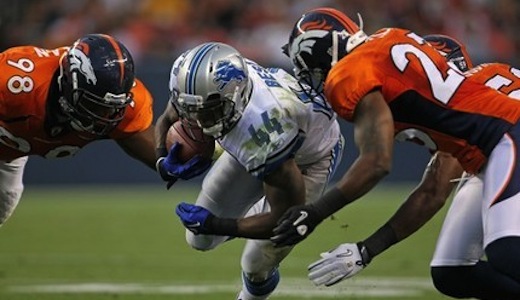 Winners
RB Jahvid Best, Detroit Lions. The rookie showed enormous potential by gaining 232 all purpose yards. When Matthew Stafford recovers and with Best's continuous development the Lions will be out of the cellar in three years. Hope you Lions fans are patient.
Fantasy pick-up? Yes, he'll get more opportunities with Stafford out.
QB Michael Vick, Atlanta Falcons. Vick is the biggest winner this week. He was already named the starter for Week 3. He has learned how to be a pocket QB and is still a threat to take off for a highlight reel run.
Fantasy pick-up? Yes
K Mike Nugent, Cincinnati Bengals. With Terrell Owens and Chad Ochocinco you'd never know that a kicker would score the most points for the Bengals. It turns out that Nugent's five goals were enough to beat the Ravens.
Fantasy pick-up? A kicker scoring all the points for a team? Heck yes
LB Clay Matthews, Green Bay Packers. He has been a defensive force for the Packers. He has back-to-back three sack games. It's about time a different Packer besides Aaron Rodgers gets credit.
QB Jay Cutler, Chicago Bears. Only one interception in two games? That's already an achievement for Cutler. By this time last year he has already thrown three.
Fantasy pick-up? Yes, until he falls into an interception binge
Pittsburgh's D. Troy Polamalu is more important to the Steelers D than Ben Roethlisberger is to the team's offense. Pittsburgh's D has allowed only one touchdown in two games. And these aren't against bottom dwelling teams. It was against the Falcons and Titans.
Fantasy pick-up? Should've drafted them
CB DJ Moore, Chicago Bears. Moore intercepted two of Romo's passes and spearheaded a tough secondary that dropped the Cowboys to 0-2.
Indianapolis D. The Colts D put a spanking on the Giants and knocked around Eli to the ground as if he was Peyton's little brother.
Fantasy pick-up? Nope. Depends on who they're playing.
Losers
QB Brett Favre, Minnesota Vikings. Favre is finally showing his age. He has been out of sync for two weeks in a row. The 40.year-old has not looked this bad since his final months in Green Bay.
Fantasy pick-up? Hard to tell but NO
QB Joe Flacco, Baltimore Ravens. The Ravens so-called improved offense was basically just on paper. They've scored a total of 20 points in the last two weeks.
Fantasy pick-up? As a back-up? Then yes.
WR Michael Crabtree, San Francisco 49ers. Crabtree played great at the second half of the season last year. Where did all that talent go? That whole Niners offense is dysfunctional.
Fantasy pick-up? No. Too many offensive weapons for San Francisco.
Buffalo Bills. Their offense is in shambles and their defense is confused. CJ Spiller has disappointed. The Bills have been outscored 17 to 59 in the past two games. These guys could finish 2-14.
QB Eli Manning, New York Giants. Manning needs to re-group his offensive line and tell them, "Guys, I think your job is to protect me from getting hit". Manning cannot operate with an unreliable O-line. The preseason was a sign that Manning was going to get hit a lot this season.
Fantasy pick-up? Yes, he'll be fine.
QB Matt Moore, Carolina Panthers. Carolina's QB position is cursed. First, Jake Delhomme and now Matt Monroe. Rookie Jimmy Clausen better tread carefully.
Fantasy pick-up? No, thank you
Head coach Andy Reid, Philadelphia Eagles. Naming Kolb a starter for Week 3 then backtracking and then naming Vick as the starter will do some serious damage to Kolb's confidence. Reid has given in to popular demand and went with Vick.