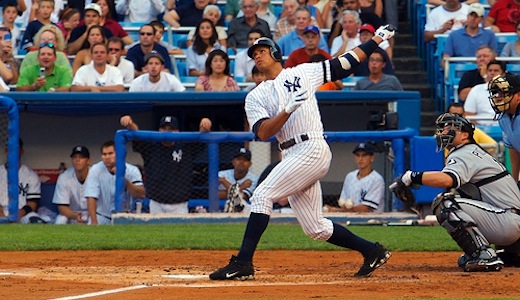 Alex Rodriguez hit two home runs moving past Sammy Sosa for sixth place on the all-time home run list with 610. Rodriguez has 47 career home runs against the Red Sox, the most of any active player.
Alex Rodriguez passed Sammy Sosa for sixth on the all-time home run list on September 24 by hitting two home runs against the Yankees bitter rival, the Boston Red Sox. He now has 611 total home runs, 19 short of Ken Griffey, Jr. for 5th place. A-Rod is only the seventh player in history to hit 600 or more home runs. But, of course, his achievement begs the question, "How legitimate are his stats?"
Bet the MLB Playoffs with Bodog Sportsbook
A-Rod, or A-Fraud as he's called by some, admitted to using steroids during his campaign with the Texas Rangers from 2001 to 2003. In that span of three years, he hit 52, 57 and 47 homers for three seasons with the Rangers. That's a total of 156 home runs that were helped by performance enhancing drugs. Subtract that from 611 and that's 455 (assumed) steroid-free home runs.
We can go back and forth arguing that those tainted at-bats shouldn't count or there needs to be an asterisk next to A-Rods name but we have to face the fact that Barry Bonds still sits atop the list of most homers with 762. There's no asterisk and there has been no subtraction from his total home runs. That's just the reality of it all.
All this brings us to two possible arguments.
First: A-Rod's milestone should not count because he used performance enhancing drugs.
Mandatory testing for steroids was implemented only in 2004. Who in the world knows if A-Rod is telling the truth that he only used it during his days at Texas? The same question goes for Mark Maguire and Sammy Sosa. Was their home run race really a battle of steroid injections? Since Maguire admitted to using steroids during the great home run chase, Roger Maris' record should stand. In fact, the North Dakota Senate is pushing that Maris' single season home run record should still be recognized as the legit statistic. Maguire's milestone during the 1998 season should be erased because he was helped. No matter his claims of using it for recovery, it still gave him an unfair advantage. Faster recovery with artificial substances is still cheating.
Bet the MLB Playoffs with Bodog Sportsbook
Which brings us to A-Rod's recent milestone. It would be preposterous to let A-Rod's record stand because he was aided by substances that helped his performance (or his recovery). It would be fair to everyone in the baseball world to make A-Rod start from 455 home runs again. It's not the most complicated decision Bud Selig has to make but at least it shows that he's making an effort to correct the past mistake of A-Fraud.
Second: Not to disrespect the greats of baseball but it's not impossible that Hank Aaron (755 HR's) and Willie Mays (660 HR's) experimented with performance enhancers. (Babe Ruth would have been included but he passed away in 1948)
Only in the past 10 years has MLB been cracking down of illegal use of performance-enhancing drugs. Are we sure that these greats did not take even an ounce of steroids. According to John McCloskey and Dr Julian Bailes of the book "When Winning Costs Too Much: Steroids, Supplements, and Scandal in Today's Sports" anabolic steroids were dated back to the 1960's. Mays had the tail end of his career in the late 60's and early 70's. Aaron continued to play until the mid 70's. Again, it's not entirely impossible that they experimented with steroids to continue their solid performances even in the twilight of their careers. Or used it for recovery purposes. This argument may prove to be moot since we'll never know without their confessions. It could be a poor assumption but it's something to think about.
If the assumption presented above has basis then A-Rod should not be subjected to all these issues concerning the legitimacy of his home runs.
It's sad that such a beautiful sport like baseball has to go through dark times. There are plenty of issues of legitimacy of stats and which recently broken records should stand. All of this, though, is needed if MLB wants to move past the Steroid Era.