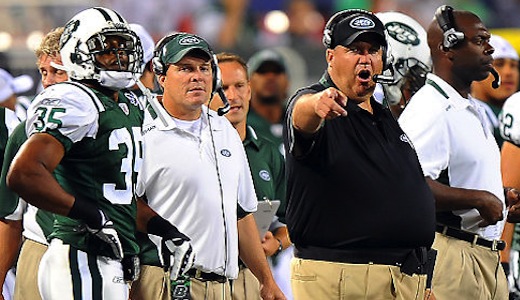 The Jets own the best record in the NFL with five wins and one loss. Their only loss was way back in Week 1 where they couldn't outlast the Ravens in a grind-it-out game.
Since then, the Jets have won five straight. Their defense hasn't really surprised anyone because it's expected to dominate. The Jets are sixth in the league in points allowed. They can keep any elite QB from taking over a game. And as displayed in the second half against the Patriots, future Hall-of-Fame receivers like Randy Moss can be shut down without top-tier corners.
Bet the NFL Season with Bodog Sportsbook
What's refreshing about the Jets is their offense. New York is fourth in the NFL with most points scored per game with 26.5. Mark Sanchez has done a great job protecting the ball and making safe throws. He may not light up the boxscore but the kid doesn't play beyond what's expected of him. He has turned the ball over only three times this season.
Head coach Rex Ryan is comfortable with Sanchez not attempting 50 passes a game. He knows the Jets are built to play old-school, physical grind-out offense. It's pretty easy to build your game like that with running backs Shone Greene and LaDanian Tomlinson on your team. While Greene has been great averaging 4.5 yards per carry, it's Tomlinson that deserves recognition. Thought to be washed up by the Chargers and left for dead on the shore, LT caught on with the Jets and has been a great fit for them. Tomlinson is currently averaging 5.3 yards per carry. Virtually the same average he had in 2006 when he won the NFL MVP award.
With Sanchez's continuing development, Greene and Tomlinson's steady production, the Jets offense is one of the most versatile in the league.
Sign up for an Account Now at Bodog Sportsbook
The Jets, shockingly, are mediocre against the pass. The Lions, Rams and Browns give up fewer yards to opponents. But numbers are misleading Mr. John Hollinger. Darrelle Revis' presence in the secondary and his ability to cover receivers single handedly allow the Jets to blitz more liberally with safeties. Opponents rather rush the ball than take chances in the air.
With all that said, are the Jets the best right now?
It would be unfair to the Steelers to name them so. But it would be hard to argue against the reasons given above.