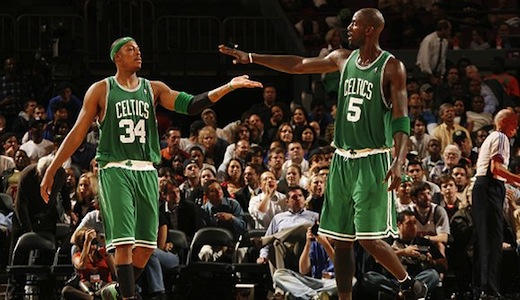 The hoopla media is over and finally the trio of Dwyane Wade, Chris Bosh and LeBron James stepped on the court in Boston last night.
They finally got an opportunity to prove that two superstars and an all-star (Bosh is not a superstar in any sense of the word) can co-exist on one team. After their first game of the season, the Heat showed that they have lots to go through before they achieve some sort of chemistry.
Sign up for an Account Now at Bodog Sportsbook
Let's not overanalyze the first game of the Heat. In the last five minutes of the fourth quarter, Miami's offense started to click when LeBron started to dominate the ball. It felt like watching LeBron in a Cleveland uniform. He started to drive to the rim more. In the first three quarters he settled for long jumpers. If he started taking the ball to the rim earlier, James would've opened up more opportunities by attracting double teams.
Wade played like Delonte West out there and Chris Bosh did his best JJ Hickson impression. It's like James never left Cleveland. Bosh, in particular, was intimidated by the presence of Kevin Garnett and Shaquille O'neal. He played like a complete softy and was pushed around. No wonder why Shaq calls him the Rupaul of big men.
Boston showed them how it's supposed to be done; unselfish play, great team defense and leadership. From early to mid-game Wade and James kept deferring to each other.
Wade gave way to James in the fourth, mainly because of a strained hamstring. But if he was healthy, James wouldn't dominate the ball on offense. Let's face it Wade is better in the clutch than James is.
James needs to realize that he isn't in Cleveland anymore. His teammates are Wade and Bosh, perennial all-stars. He needs to channel his skill and ability to create for his teammates.
Bet the NBA Season with Bodog Sportsbook
What the Big 3 in Boston had when they started was Rajon Rondo. The New Big 3 in Miami don't have a point guard as skilled as Rondo, who is willing to create shots and to defer to them. Rondo is a team player that is willing to play a team game and have the spotlight shine away from him.
The Heat needs a Rondo type player. A point guard that can set them up and can distribute shots among the three since LeBron isn't willing to be that guy.
For now Miami has to contend with all the criticism that comes with losing the first game of the season. It seems that the MVP of their team is Mike Miller. He'll give the Heat an outside threat that they clearly lacked against the Celtics. Maybe then LeBron will be more than happy to share the ball.