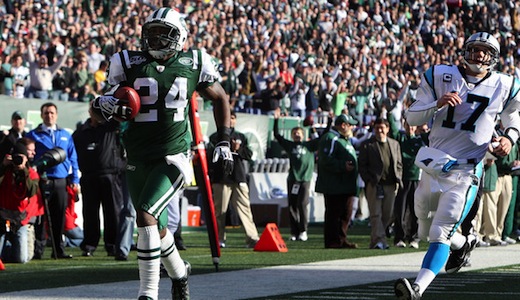 Green Bay Packers @ New York Jets Sun. Oct. 31st 1pm EST
There is no question that there has been a tremendous amount of pressure put on the New York Jets this season as they have been dubbed as a legitimate Super Bowl title contender before this NFL regular season even began, but after the first seven weeks of the season they have proven to their doubters that they are for real and may be just as good on offense as they are on defense this season.
Even though the New York Jets have already been tested a few times this season against teams like the Baltimore Ravens, New England Patriots, Miami Dolphins and the New England Patriots, things won't get any easier as they still have some tough games left on their schedule against some of the best teams in the league.
Sign up for an Account Now at Bodog Sportsbook
Obviously, the New York Jets are circling the dates when they play the New England Patriots (Monday Night Football, December 6th) for a second time and when they get their first shot at the Pittsburgh Steelers (Sunday, December 19th) this season, but they will have to get through the Green Bay Packers in Week 8 before they can look that far ahead.
Even though the Green Bay Packers haven't exactly lived up to their Super Bowl title expectations this season, they are still a serious force to be reckoned with in the NFC Conference and after their big win over Brett Favre and the division rival Minnesota Vikings last week at Lambeau Field, they may have just have enough momentum moving forward in order to give the New York Jets a run for their money in Week 8.
Despite the Green Bay Packers seemingly heading in the right direction after finally beating Brett Favre last week, there is no question that they are really banged up right now as they are suffering from injuries to some of their best offensive players in running back Ryan Grant (knee) and tight end Jermichael Finley (knee).
Bet the NFL Season with Bodog Sportsbook
With both Grant and Finley out for the season, the Packers have become a one dimensional team as perennial Pro Bowl quarterback Aaron Rodgers has been limited to using just the passing game to hurt opposing defenses. Even though backup running back Brandon Jackson had a decent game against the Minnesota Vikings last week with 58 rushing yards and a touchdown, that probably won't be the case against the New York Jets this week as they have one of the best defenses in the league against the run by limiting running backs to a total of 90 yards per game.
Along with having one of the best run defenses in the league (7th best), the New York Jets have arguably the best ground game in the league with 159.2 rushing yards per game (2nd best). With both former NFL MVP running back LaDainian Tomlinson and up and comer Shonn Greene, I believe the Green Bay Packers won't be able to stand a chance defending the New York Jets or scoring on them.