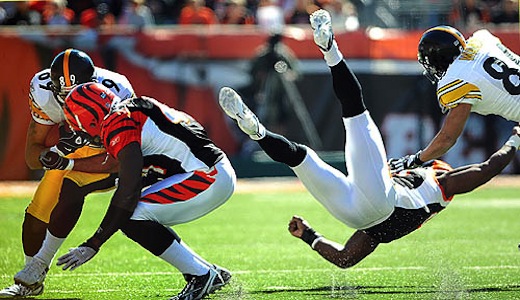 One of the biggest draws for NFL viewers these days and ever since the game was created for that matter has been the bone crushing hits and collisions you get to see every single Sunday and Monday on the gridiron.
No matter whether your football fan or not, most people love to see the hard hits that occur when the best athletes in the world go toe to toe and try to take each other's head off on the football field. There no question that no one wants to see anyone get hurt or be taken off the field on a stretcher, but this game is as tough and rough as they come where hard hits are a part of the game.
Sign up for an Account Now at Bodog Sportsbook
Obviously, there is limit to the brutality of this sport and some hits are just uncalled for as they either occur after the play has been called dead or the intention of the hit is to injure the other player. There are rules in place in the NFL to avoid these kinds of hits, but in Week 6 there were some big time hits put on players that resulted in concussions that quite literally knocked players out of the game.
This unfortunately forced the hand of NFL commissioner Roger Goodell as he has taken another look at last week's hard hits and given out fines to the players that gave them.
Not only did big-name players like the Philadelphia Eagles wide receiver DeSean Jackson suffer a severe concussion that could keep him out some considerable time, but the defensive players that made these crushing hits were ultimately fined because the hits were considered to be against the rules.
One of the defensive players that were fined for their hard hits of Week 6 was former Defensive of the Year and Pittsburgh Steelers linebacker James Harrison. Not only was Harrison outraged by receiving a fine for something he has done 100s of times during his football career, but the new rules impacted him so much that he was seriously considering retirement as he believed this was no longer the game he had come to know and love playing.
Bet the NFL Season with Bodog Sportsbook
Personally, I am all for protecting players from suffering serious injuries that could have easily been avoided, but when it comes at the expense of changing the game and the passion players have for playing football, there is something wrong and it needs to be corrected or more players like James Harrison could end up calling it quits.
Obviously, with a big-name player like James Harrison speaking out about this and many more bound to follow and express their discontent with the league, the NFL will continue to receive some harsh criticism for these fines throughout the season and well in the offseason.