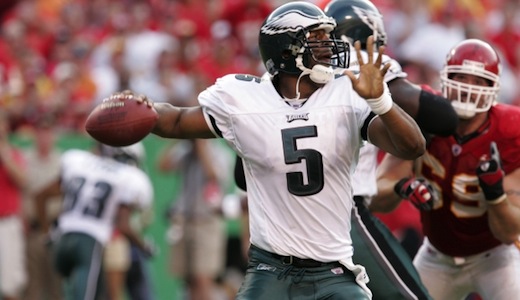 Philadelphia Eagles @ Tennessee Titans Sun. Oct. 24th 1pm EST
The Philadelphia Eagles took a huge gamble before the NFL regular season by trading six-time Pro Bowl quarterback and the face of the franchise in Donovan McNabb to the division rival Washington Redskins. Even though this was a risky move to say the least for this perennial playoff team, head coach Andy Reid and company were confident it was the right one as they had quarterbacks Kevin Kolb and Michael Vick to take over under center.
Sign up for an Account Now at Bodog Sportsbook
Just as it was anticipated, the Eagles made quarterback Kevin Kolb their starter and Michael Vick the backup, but after Kolb went down with a concussion against the Green Bay Packers in Week 1, Vick was thrown into the mix and played much better than anticipated by showing signs of his former self.
Unfortunately, even though Michael Vick was driving opposing defenses crazy with his impressive play both with his arm and his quick feet, the former Atlanta Falcons superstar went down with a torn rib cartilage injury against the Washington Redskins and has had to sit for the last two weeks.
Even though this was thought to be devastating blow for the Philadelphia Eagles who were starting to look like the favorite to come out on top in the NFC East division, Kevin Kolb was able to step in and pick up the slack and lead his team to two straight wins.
In Week 7, it was thought that Michael Vick might be ready to return against the Tennessee Titans, but apparently he isn't ready just yet and Kevin Kolb will get the nod for at least one more week as their supposed new starting quarterback continues to try and rehab from his injury.
A few weeks ago this probably would have been considered a bad thing for the Philadelphia Eagles as Kevin Kolb hadn't really looked all that good under center, but with his impressive play over the last two weeks, the Eagles will have a solid chance to pull off the slight upset against the Titans.
Bet the NFL Season with Bodog Sportsbook
Personally, I believe the Philadelphia Eagles are the better football team on both sides of the ball, but without Michael Vick under center and wide receiver DeSean Jackson having to sit out with a severe concussion he sustained against the Atlanta Falcons last week, the Eagles will be going to ground game with running back LeSean McCoy leading the way.
With the Philadelphia Eagles offense being one dimensional this week, I would say that the Tennessee Titans defense could have a field day and dominate from start to finish. Even though both of these teams are more than capable of putting a lot of points on the board, I believe this will be an uncharacteristically low scoring affair in which the Titans should ultimately come out on top.