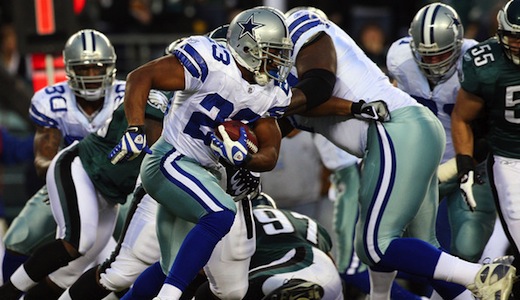 Jacksonville Jaguars @ Dallas Cowboys Sun. Oct. 31st 1pm EST
No other team in the NFL this season has been more disappointing than the Dallas Cowboys. No matter what this team does to improve their franchise over the offseason and through the NFL Draft, they never seem to produce enough on the football field and this season has been a nightmare to say the least as they will head into their Week 8 matchup against the Jacksonville Jaguars with a 1-5 record.
Bet the NFL Season with Bodog Sportsbook
As if having one win coming into Week 8 wasn't bad enough for this team that was considered Super Bowl title contenders before the season began, the Dallas Cowboys will also have to play the rest of the season without their Pro Bowl quarterback and leader under center in Tony Romo. With a broken clavicle that he suffered last week in the loss to the New York Giants, Romo has been ruled out for at least six to eight weeks which is basically the rest of the season for this struggling franchise.
With that being said, the once potent offense of the Dallas Cowboys is going to look and play completely different from here on out as the starting quarterback will be Jon Kitna who really struggled against the New York Giants last weekend in place of Tony Romo.
So with Kitna taking the snaps, I see this season getting even worse for America's team as they will almost certainly struggle even more to put points on the board with a veteran QB that was noticeably struggling to take over for his Pro Bowl counterpart.
Fortunately, the Dallas Cowboys will be able to take advantage of a bad team in Week 8 as they will face the Jacksonville Jaguars who are having their own quarterback problems as well. A few weeks ago, starting quarterback David Garrard went down with a concussion and handed the team over to Trent Edwards who also went down and handed the team over to Todd Bouman.
Sign up for an Account Now at Bodog Sportsbook
Even though Todd Bouman played somewhat decent against the Kansas City Chiefs last week, he will almost certainly struggle this week against a very desperate Dallas Cowboys defense that will do everything within their power to dominate the Jacksonville Jaguars offense.
As of right now, the Dallas Cowboys are favored and favored fairly big to come out on top in this one with a -6.5 point spread. This is kind of surprising to me as the Cowboys will be playing with Kitna behind center, but even though the spread is a bit high for this game, I still believe that America's team should come out on top and cover.