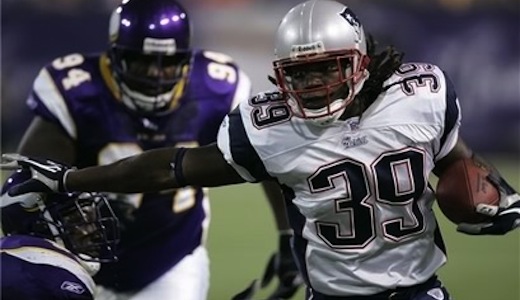 Minnesota Vikings @ New England Patriots Sun. Oct. 31st 4:15pm EST
Coming into Week 8, the Minnesota Vikings will be in desperation mode as they have only won two games this season and are coming off perhaps their biggest loss of the season to their division rivals and Brett Favre's former team in the Green Bay Packers.
Along with failing to live up to expectations so far this season, the Vikings also continue to have some serious injury problems as they will be without Pro Bowl wide receiver Sidney Rice for at least one week and for the first time in his 20-year career in the NFL, Brett Favre's playing status is in serious doubt due to what is being called a fractured ankle.
Bet the NFL Season with Bodog Sportsbook
Obviously, any normal human being would instantly be on crutches and suffering some severe pain that can only be brought down by painkillers, but Brett Favre is the very definition of Ironman in the NFL as he has started 313 consecutive games in his Hall of Fame caliber career in the NFL. There is no question that the Silver Fox will almost certainly be considering sitting out this week's showdown with the New England Patriots as he is no longer a young buck and will struggle to recover from this injury, but if he doesn't rest that ankle he could be done for the year and his career.
So as of right now, the Minnesota Vikings seem to be more inclined to go with backup quarterback Tavaris Jackson in this Week 8 matchup with Tom Brady and company.
Even though most people believe that having Brett Favre under center always gives the Vikings a legitimate shot of being any team in their way, the three-time NFL MVP has really struggled this season and hasn't looked anything like the dominant quarterback we saw last season.
Fortunately, I believe that Jackson is a viable backup for Favre and will prove that fact by keeping the New England Patriots secondary on their heels all day long. The one thing that Jackson brings to the Vikings offense that Favre doesn't is mobility. With Tavaris Jackson's quick feet and superstar running back Adrian Peterson coming out of the backfield, the Vikings offense will be a bit more dynamic in Week 8 and might just have enough to take down the Patriots who have lost one game this season to the New York Jets.
Sign up for an Account Now at Bodog Sportsbook
As of right now, the New England Patriots are being given the edge in this one and for good reasons considering the Minnesota Vikings injury problems and inconsistent play.
The point spread right now is -5.5 for Bill Belichick's squad and I believe that is just about right as the Patriots should come out on top in this one.
The one thing to watch for throughout the week is the injury reports for Brett Favre's playing status as it will almost certainly dictate the spread before this Sunday.