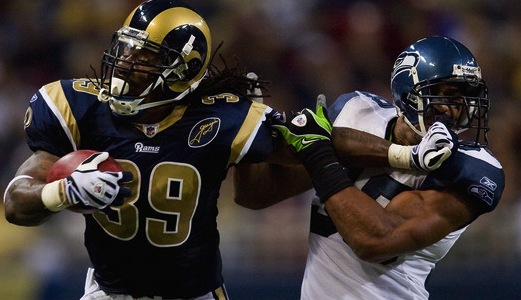 The NFC West division has been dominated by the Arizona Cardinals and the Seattle Seahawks over the past decade or so, but with so many changes to these two dominant teams like the Seahawks rebuilding and the Cardinals losing former NFL MVP quarterback Kurt Warner to retirement, the division was wide open for change and this season the St. Louis Rams seem destine to change it.
Before this NFL regular season began, the St. Louis Rams were owners of the first overall pick in the 2010 NFL Draft and with so many disappointments at quarterback ever since Kurt Warner left town, the Rams had their eyes set on former Heisman trophy winner Sam Bradford of Oklahoma.
Bet the NFL Season with Bodog Sportsbook
There was a lot of debate heading into the 2010 NFL Draft about the number one pick and whether or not the St. Louis Rams should take a chance on a quarterback that had multiple shoulder injuries in his last year with the Oklahoma Sooners, but despite everyone doubting the young quarterbacks ability to stay healthy and transcend his game on the NFL level, the Rams went with Bradford and haven't looked back.
Image by Getty Images via @daylife
Last season the St. Louis Rams were arguably the worst team in the league as they had only won one game all year long and were thought to produce similar results this season, but that hasn't been the case as Sam Bradford has been able to lead them to four wins and a first place standing in the NFC West coming into Week 10.
Obviously, there is still a lot of football to be played and the Seattle Seahawks (4-4), Arizona Cardinals (3-5) and maybe even the San Francisco 49ers (2-6) could potentially be a threat to win the NFC West division moving forward, but not one of these teams have played as well as the St. Louis Rams this season.
Sign up for an Account Now at Bodog Sportsbook
There is no question that the Rams still have a ways to go before they can be considered a legitimate force to be reckoned with in the NFC Conference as they are pretty thin at wide receiver, especially with all their injuries this season, but they are definitely moving in the right direction as Sam Bradford is without a doubt just what the doctor ordered for this struggling NFL franchise.
Coming into Week 10, the St. Louis Rams will square off against the division rival San Francisco 49ers in what could be a very important game in terms of division position.
As of right now, the San Francisco 49ers are favorites to come out on top in this NFC West showdown with a -6 point spread, but I believe the St. Louis Rams will continue to play well this week and pull off the upset while maintaining their first place standing within the division.