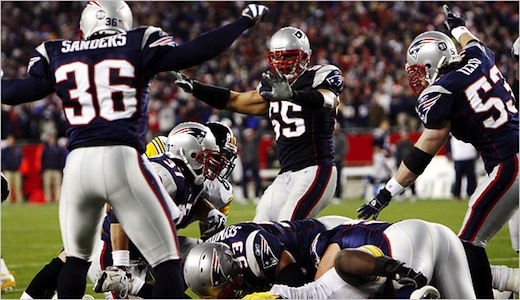 The New England Patriots and the Pittsburgh Steelers have been two of the most successful teams in the NFL over the past decade or so, but coming into this NFL regular season it was pretty uncertain whether these two storied NFL franchises would be able to dominate the competition like they had done so easily in the past.
Fortunately, coming into their Week 10 matchup both the Patriots and the Steelers were sporting 6-2 records and were considered to be amongst the elite teams in the NFL this season, but only one team could come out on top with two-time Super Bowl champion quarterback Ben Roethlisberger's squad having the edge in NFL odds with a -4 point spread.
Sign up for an Account Now at Bodog Sportsbook
Despite being arguably the better team on the defensive side of the football and playing well over the last few weeks of the season, Mike Tomlin and company struggled all day long against Bill Belichick's New England Patriots and Tom Brady put on a show with 350 yards passing and four total touchdowns (three passing, one rushing).
Image via Wikipedia
Even though Tom Brady's impressive performance overshadowed Ben Roethlisberger's, Big Ben put up some pretty impressive numbers as well with 387 yards passing, three touchdowns and one interception. So even though Big Ben had a big game, it just wasn't enough to lead his team to victory as the Patriots were able to hold on their lead all game long and come out with a 39-26 win.
One big problem the Pittsburgh Steelers had in this AFC Conference heavyweight showdown was the absence of go to wide receiver Hines Ward who went down with a concussion early in the contest, but fortunately young wideout Mike Wallace was able to step it up for the Steelers in place of Ward by finishing with 138 receiving yards and two receiving touchdowns.
As for the New England Patriots, it was tight end Ron Gronkowski that became Tom Brady's favorite target in the offense with five catches for 72 receiving yards and three receiving touchdowns. This came as a surprise to both the Pittsburgh Steelers and everyone watching as tight end Aaron Hernandez has been the number one tight end in the offense, but Gronkowski just happen to be who Brady was targeting this past Sunday.
Bet the NFL Season with Bodog Sportsbook
There was no question coming into this Week 10 matchup that the New England Patriots were legitimate Super Bowl title contenders and could compete with the New York Jets for the AFC East division title, but this big win over the Pittsburgh Steelers has convinced many people that Tom Brady and company are officially the real deal and arguably the best team in the league.
Even though the New England Patriots have proven that they are one of the league's elite teams moving forward and could be headed for Cowboys Stadium in February, they will have their work cut out for them once again in Week 11 against an old rival in Peyton Manning and the Indianapolis Colts.