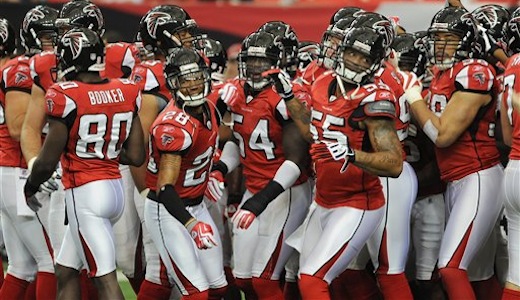 Heading into Week 12, the Green Bay Packers and the red-hot Atlanta Falcons were set to do battle in what might be a preview of the NFC Conference championship game. Not only are these two teams arguably the two best teams in the NFC Conference right now, but this game was to determine which team could live up to the hype and come out on top.
Image via Wikipedia
Even though the Green Bay Packers have played really well as of late with four straight wins coming into this matchup against the Minnesota Vikings (28-24, 31-3) twice, New York Jets (9-0) and the Dallas Cowboys (45-7), Aaron Rodgers and company were facing arguably their toughest challenge of the season against Atlanta Falcons who had won four win in a row as well against the Cincinnati Bengals (39-32), Tampa Bay Buccaneers (27-21), Baltimore Ravens (26-21) and the St. Louis Rams (34-17).
Sign up for an Account Now at Bodog Sportsbook
Not only was this game huge to say the least for the Green Bay Packers in terms of competing with the best of the best in the NFC Conference, but it also had divisional implications for Mike McCarthy's squad as the Chicago Bears were in first place heading into Week 12 and ultimately beat Michael Vick and the Philadelphia Eagles (31-26) to remain in first place.
Obviously, the Bears had yet to play the Eagles and the pressure wasn't on the Packers just yet, but the Cheeseheads definitely had it in the back of their minds coming into this matchup as a loss would mean they would be in an uphill battle in the NFC North moving forward.
Despite a dominant performance by perennial Pro Bowl quarterback Aaron Rodgers who threw for 344 yards, two touchdowns (no interceptions) and ran for 51 yards and a touchdown, it just wasn't enough to hold off Matt Ryan and company who played some flawless football and came out with the 20-17 victory.
Image by Getty Images via @daylife
Matt Ryan might not have had a huge day numbers wise with just 197 yards and a touchdown, but he was as accurate as a star quarterback could be completing 24 out of 28 passes on the day. Not only did Ryan have a Pro Bowl caliber performance, but he was backed up by an impressive performance from running back Michael Turner who rushed for 110 yards and a touchdown on 23 carries.
Bet the NFL Season with Bodog Sportsbook
The one thing that was evident in this game besides the fact that the Atlanta Falcons are without a doubt the real deal and well on their way to a NFC South division title was the Green Bay Packers continued lack of a ground game. Yes, Aaron Rodgers had a good day running the football with 51 yards, but he is no Michael Vick and shouldn't be running the football as much as he has.
Without running back Ryan Grant coming out of the backfield, the Green Bay Packers have become one dimensional on offense and that may ultimately be their downfall come playoff time or down the stretch in the regular season.