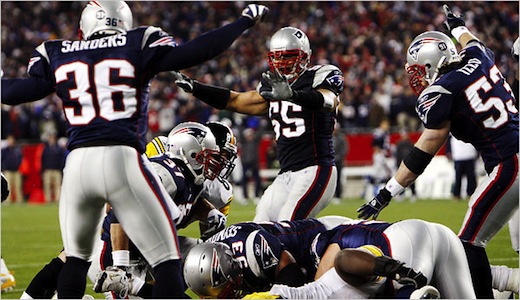 Every single season when the New England Patriots and Indianapolis Colts go head-to-head it always has the potential to be a game of the year as these two teams always go at each other with a never say die attitude as their rivalry has only gotten stronger over the years.
Not only does this game showcase two of the best quarterbacks of all-time in Tom Brady and Peyton Manning, but both the Colts and Patriots are competing for a Super Bowl title this season as both teams played well coming into this AFC Conference heavyweight showdown.
Sign up for an Account Now at Bodog Sportsbook
Needless to say, a win for either team in Week 11 would be huge, especially for the Indianapolis Colts who need to prove to the rest the league that they can beat the best of the best like they did last season.
Unfortunately for the Colts, the Patriots were able to come out on top in this one as they basically dominated from start to finish, but in classic Colts/Patriots fashion, this matchup came down to the wire where it was anybody's game.
Even though the Indianapolis Colts are still one of the best teams in the league and always will be with four-time NFL MVP quarterback Peyton Manning under center, Jim Caldwell's squad has had to deal with some costly injuries to big name players like wide receiver Austin Collie end perennial Pro bowl tight end Dallas Clark.
Without his favorite target in the offense in Clark and the fact that the defense really can't stop anybody, Peyton Manning and the Indianapolis Colts haven't been that dominant team that everyone expected coming into this NFL regular season. Despite no longer being considered amongst the elite in the NFL this season, the Colts are still a very tough team to beat and Patriots head coach Bill Belichick knew that his team would be in for a long day.
Even though the New England Patriots have been flashy team this season were gotten much attention besides trading away superstar wide receiver Randy Moss, they have been able to get the job done consistently and they did just that by beating the Indianapolis Colts 31-28.
Bet the NFL Season with Bodog Sportsbook
The score may seem close with only three points separating the two teams, but if it weren't for Peyton Manning's two touchdown passes in the last eight minutes of the game, the New England Patriots would've cruised to victory.
At one point it actually look like the four-time NFL MVP might actually be able to lead his team to victory, but a costly interception was the difference between winning and losing.
Once the New England Patriots got the football back and 31 seconds left on the clock, Tom Brady took one kneel down and improved his team's record to an impressive 8-2.