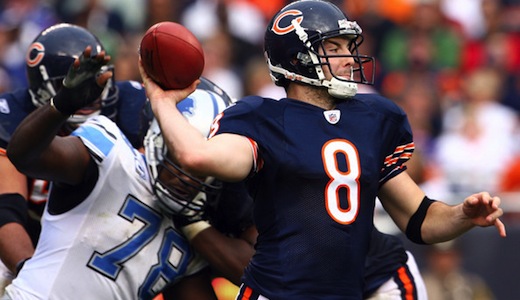 The Bears defense comes up big against the Dolphins.
The Chicago Bears have been extremely streaky team this season has at times they've shown signs of promise both on offense and defense, but just like in the past, it has been superstar linebacker Brian Urlacher that have continued to bail this team out every single week.
There is no question that Jay Cutler as a Pro bowl caliber quarterback that could ultimately go down as one of the best Bears' quarterbacks of all-time, but the young QB has a terrible tendency for turn the football over when his offense is on the verge of just dominating their opponent.
Bet the NFL Season with Bodog Sportsbook
Much like future Hall of fame quarterback Brett Favre throughout his career, Jay Cutler is a quarterback that can throw for a lot of yards and a lot of touchdowns, but also a lot of interceptions which might ultimately be his downfall.
With that being said, the Chicago Bears been the team that can put up a lot of points this season, but also a team that tends to lean on the defense a little too much as you never know what kind of offense to show up and how many turnovers could ultimately hurt this team.
Coming into Thursday night's matchup against the Miami Dolphins, the Chicago Bears were favored to come out on top, but not by much as the Dolphins have proved they are a force to be reckoned with this season. Even though the Dolphins were banged up at quarterback with both Chad Pennington (shoulder) and Chad Henne (left knee) going down last week, they had faith in third stringer Tyler Thigpen to step up and lead this team to victory for the second straight week.
Unfortunately, Thigpen was made a non-factor in this game is the Chicago Bears defense just dominated all night long start to finish. Not only did the Bears defense force Thigpen to throw an interception and get sacked three times, but they were able to completely shut out this offense as the Dolphins failed to score all night long while getting the 16-0 win.
Sign up for an Account Now at Bodog Sportsbook
Even though the Chicago Bears offense didn't do much better as they were forced to use kicker Robbie Gould to kick three field goals and limit quarterback Jay Cutler to just 156 yards passing and an interception while throwing no touchdowns, this win was huge for the Bears as they maintain first place in the NFC North division.
Obviously, the Green Bay Packers are right on the tail and could gain even more ground this weekend as they can beat Brown-Forman Minnesota Vikings for the second straight time, but the Chicago Bears still have a victory over the Green Bay Packers which means their next meeting could ultimately decide the winner of the NFC North division.
So one thing is for sure, Chicago Bears offense needs step it up and get back on track if they expect to win this division, but their defense of the most best in the league right now and just might be enough to lead them into the playoffs.