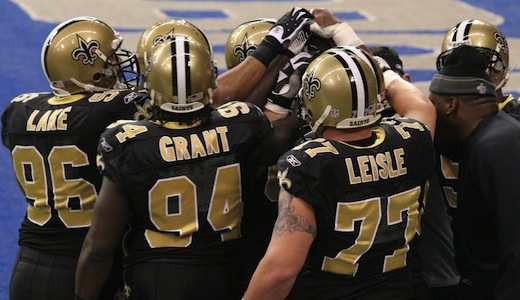 New Orleans Saints @ Atlanta Falcons Mon. Dec. 27th 2010 8:30pm EST
The NFC South division has been arguably one of the toughest divisions to play in this season in the NFL as three of their teams have been amongst the best in the league this season with the defending Super Bowl champion New Orleans Saints, Tampa Bay Buccaneers and division leading Atlanta Falcons being legitimate playoff teams
Image by Getty Images via @daylife
Even though many people expected the Tampa Bay Buccaneers to drop off as the season progressed, Josh Freeman and company have played pretty well this season and have only just recently been knocked out of contention for the NFC South title.
Sign up for an Account Now at Bodog Sportsbook
With the Bucs taking a back seat, the Saints and the Falcons are left to contend for the NFC South division title and in dramatic fashion as these two dominant squads will go head-to-head on Monday Night Football in Week 16 in a game where the division title will be on the line.
Fortunately for the Atlanta Falcons, win or lose this NFC South division showdown, Matt Ryan and company have already clinched a playoff spot, but the New Orleans Saints can't say the same as they are fighting for their playoff lives right now.
Despite the defending champs having to give it their all they've got win the last two games of the NFL regular season, they may still be playoff bound as the NFC Wildcard could be in the grasp.
No matter what the circumstances coming into this Monday night football battle for a division title, the New Orleans Saints and the Atlanta Falcons will not be backing down an inch to one another as these teams really don't like each other and will know what this game means in terms of playoff positioning and bragging rights moving forward.
Bet NFL Football at Bodog – Click HERE
Even though the New Orleans Saints have been able to turn it around this season and seemingly get back to form, no team in the NFC Conference has played better than Matt Ryan's squad as they have won eight straight games coming into this matchup. Along with being near flawless on the offensive of side of the football, the Falcons also have a defense that will almost certainly test superstar quarterback Drew Brees and his potent offense.
As of right now, the Atlanta Falcons have been given the edge in this NFC South battle with a -2.5 point spread.
This game will be as tough to bet on as any in Week 16 as they will be a hard-fought battle from start to finish with both teams have a legitimate shot to win this football game. In my opinion though, I believe the Atlanta Falcons are just a better all around team this season and should come out on top when the final whistle blows.