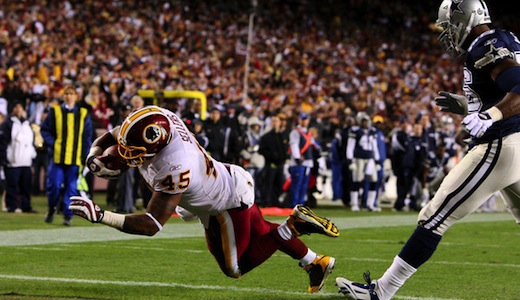 Since the Broncos won back-to-back Super Bowls in '97 and '98, former Denver coach Mike Shanahan has failed to duplicate the same type of success. He's had talented quarterbacks (Jake Plummer and Jay Cutler) after John Elway retired and developed some pretty decent backs since Terrell Davis left. It still hasn't translated into Super Bowl success for Shanahan though.
Now, his legacy is being questioned. His two rings are being questioned since he had Elway and Davis. Elway proved his greatness by single handedly carrying the Broncos to its first three Super Bowl appearances
Sign up for an Account Now at Bodog Sportsbook
Even with Donovan McNabb as his quarterback in Washington Shanahan has failed to lead the Redskins to a meaningful season. The Redskins are currently third in the NFC East. He has clashed with his star players. First with Albert Haynesworth and now with McNabb.
Shanahan has realized that McNabb is not Elway. The perfection he demanded from Elway can't be met by McNabb. Reports that McNabb has an injured hamstring are probably overblown. He doesn't have an injury since the Redskins website reported that McNabb is perfectly fine. Shanahan is playing mind games with McNabb in an attempt to motivate him in some way to study tapes longer and practice harder.
Image by Getty Images via @daylife
Shanahan also added that, "Quarterbacks never tell you the truth. He hasn't scrambled a lot. I think it's probably hurting him a little bit more than he's indicating. Quarterbacks I've been around, they'll never admit to being hurt, so I can't tell you that for sure."
Bet NFL Football at Bodog – Click HERE
It's not clear though if Shanahan is playing games with McNabb of with the media. Is he trying to confuse the Dallas Cowboys threatening to start Rex Grossman instead? Only offensive coordinator Kyle Shanahan and head coach Mike Shanahan know.
"We're not committing to tell you who the starters are at any position," Shanahan said "They've got to get ready for a couple of players. That's good for us."
With all the inconsistencies that the Redskins franchise has been through the past month it's hard not to believe anything that comes out of Washington's camp.