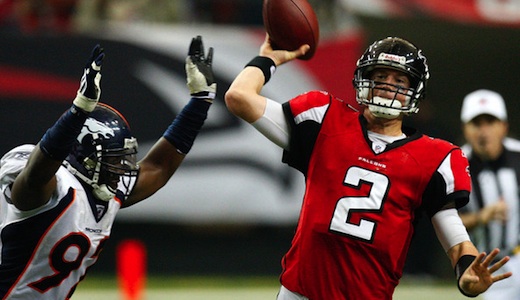 1. New England Patriots
Peaking at the right time? Check. No Randy Moss-like distractions? Check. Tom Brady's brown locks looking good? Check. New England is the heavy favorite to win it this year and with good reason. They can pick apart any team on this list.
2. Pittsburgh Steelers
The Steelers have Troy Polamalu back and that's enough reason for them to be confident heading into the Playoffs. This has been a different team since Ben Roethlisberger made his way back from suspension.
Sign up for an Account Now at Bodog Sportsbook – Bet the NFL Playoffs
3. Atlanta Falcons
Matt Ryan is ice-cold in the clutch but can he replicate that success in the playoffs? With all the hoopla Mike Vick and Roethlisberger's engagement have received the Falcons are underappreciated. They are 2nd in the NFC in points scored and 3rd in points allowed.
4. Baltimore Ravens
Their defense is still as physical as it was ten years ago. But it's the Ravens passing game that will determine how deep they go in the playoffs.
5. New Orleans Saints
Many are writing off the defending champs this early in the postseason. They aren't as explosive on offense as last year, but Sean Payton's play calling is genius. Also, Reggie Bush looked fresh in the Saints season finale against Tampa Bay, which means that they have a solid running game they can rely on.
6. Chicago Bears
Issues like pass protection and Jay Cutler's penchant for interceptions remain unresolved. They're the most vulnerable bye team in the playoffs.
Bet the NFL Playoffs at Bodog – CLICK HERE NOW!
7. New York Jets
Broadway Rex is back to his old talking ways. They have to get by the Colts first before he can start yapping his mouth again.
8. Green Bay Packers
Favorites before the season opened, the Packers are dark horses coming into the playoffs. Aaron Rodgers just needs to get his groove back.
9. Indianapolis Colts
Injuries have decimated the Colts. It's a good thing they have that Peyton Manning fellow.
Sign up for an Account at BoDog and Bet NFL Playoffs
10. Philadelphia Eagles
They rely too heavily on Michael Vick. Andy Reid needs to turn his focus on Philadelphia's defense and how they're going to stop Aaron Rodgers.
11. Kansas City Chiefs
A well-balanced team that can give any team a headache. Not to mention the headache Charlie Weis gave the Chiefs after he accepted Florida's offensive coordinator job before the playoffs.
12. Seattle Seahawks
They symbolize everything that's wrong with the NFL's current playoff system. It's not their fault though.