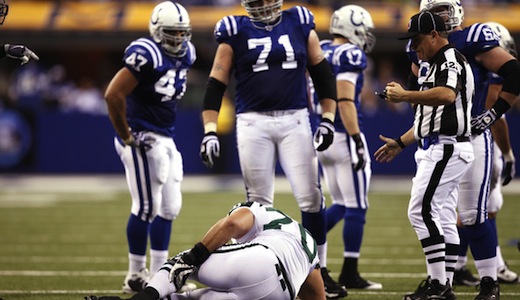 AFC Wild-card
New York Jets @ Indianapolis Colts Sat. Jan. 8th 8pm EST
The New York Jets have gone through a lot this season as they have dealt with controversy on and off the field all year long, but despite of their problems they have been able to suck it up and get back into the playoffs.
Fortunately, not only are the New York Jets back in the playoffs, but they will have shot to take down the team that knocked them out of the postseason last year in the Indianapolis Colts.
As usual, Jets head coach Rex Ryan has been very vocal about this playoff rematch against the Colts as he claims this game is personal. Even though New York has one of the best defenses in the league this season, Indianapolis always seems to have this team's number, but this time things might have changed as Peyton Manning and company have struggled all season long.
This should be an all-out battle from start to finish and even though the Colts are favored with a -3 point spread, I believe the Jets might finally get past the Colts.
Prediction: New York Jets advance
Bet the NFL Playoffs at Bodog – CLICK HERE NOW!
Baltimore Ravens @ Kansas City Chiefs Sun. Jan. 9th 1pm EST
The Baltimore Ravens have been arguably one of the best teams in the league this season with a solid combination of a potent offense and a lockdown defense, but despite finishing with a 12-4 record, they were unable to win the AFC North division and will have to face the Kansas City Chiefs at Arrowhead Stadium.
Even though the Ravens should come out on top in this matchup as they are clearly the better all around football team, this will be an intriguing matchup due to the best running team (Chiefs) going up against one of the best run defenses (Ravens).
Ultimately, Baltimore will most likely get the win, but Kansas City might make a game of it!
Prediction: Baltimore Ravens advance
Sign up for an Account Now at Bodog Sportsbook – Bet the NFL Playoffs
NFC Wild-card
New Orleans Saints @ Seattle Seahawks Sat. Jan. 8th 4:30pm EST
As perhaps the least anticipated matchup of the first week of the playoffs, the defending Super Bowl champions will head to Seattle to take on the lowly Seahawks who barely made it into the postseason with a losing record of 7-9.