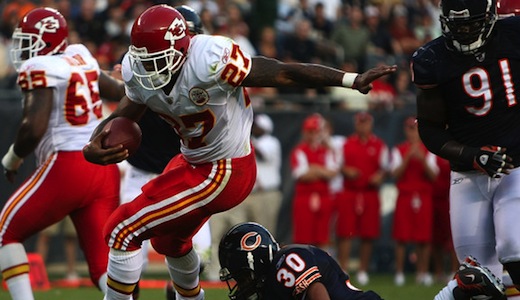 Baltimore at Kansas City
Good: This is a fun match-up because you have Jamaal Charles, who averaged 6.38 yards per carry this season and the Ravens' physical defense. It'll be a battle at the line of scrimmage with both teams eager to impose their will.
Back to Charles and the significance of his 6.38 average. He was just 0.02 yards off of Jim Brown's record of 6.40. What makes this an even more impressive feat is that Charles rarely broke out for long highlight reel runs. Majority of his yards came from just taking the hand-off and just battling for those 6.38 yards. Charles earned those yards efficiently. He was handed the ball only 230 times. Compare that to Arian Foster, who was handed the football 327 times and averaged a solid 4.9 yards per carry.
This will be a physical game because of the Chiefs offensive line and the Ravens linebackers. This will be old fashioned grind it out football.
Bet the NFL Playoffs at Bodog – CLICK HERE NOW!
Bad: The Chiefs passing game can be the factor in this game. If Matt Cassel gets into rhythm early, it'll open up the lane for Charles and the Ravens could be in big trouble. Kansas City is a balanced team that can give a lot of team's problems in the playoffs.
Ugly: Ravens GM Ozzie Newsome went out and brought T. J. Houshmandzadeh, Donte' Stallworth and Anquan Boldin to Baltimore. It has done little though to upgrade their passing game. All that blame should be placed on QB Joe Flacco. The Ravens receivers have expressed displeasure, at times, with the lack of passes thrown their way.
Key for the Chiefs: Their offensive attack needs to be balanced. Get Matt Cassel going early.
Key for the Ravens: Take advantage of Kansas City's run defense. The Raiders busted them open for 209 rush yards. The Ravens are more than capable of doing the same.
Who wins: The Ravens because of Ray Rice. The Chiefs aren't great against the run, allowing 110 rush yards a game.
NFC Wild Card
Sign up for an Account Now at Bodog Sportsbook – Bet the NFL Playoffs
Green Bay at Philadelphia
Good: The Packers defense is athletic and can keep Michael Vick in the pocket. They are great at rushing the passer. Opposing quarterbacks have not done well against the Packers' D. Green Bay is among the league leaders in sacks. Vick will be chased around the field, but with the Packers' athletic front, he'll not get very far.
DeSean Jackson forms an explosive tandem with Vick, especially with yards after catch. Jackson can get out and just plain run. Green Bay will have trouble handling him in the open field.
Bad: Michael Vick should have the Packers to thank for his reinstatement to football's elite. Green Bay knocked out then starter Kevin Kolb in week 1 of their match-up. Vick couldn't lead the Eagles to the victory against the Packers in week 1, but he was his usual dynamic self.
Philadelphia's chances of beating the Packers rely on their young roster just as much as on Vick.
Ugly: The Eagles have trouble against the pass and are just an average defensive team overall. They're allowing close to 24 points and 217 pass yards a game.
Aaron Rodgers put up very solid numbers against a tenacious Bears defense. Against Philadelphia's D? He could throw for 300 yards.
Key for the Packers: Limit the Eagles yards after catch. And of course Mike Vick's impact on the game.
Key for the Eagles: Andy Reid better whip his defense into playoff shape because if the game against the Vikings was any indication of things to come this week then Philadelphia can say good-bye to their Super Bowl hopes.
Who wins: The Packers. Not even a superhuman performance from Vick can make up for the Eagles' defense.