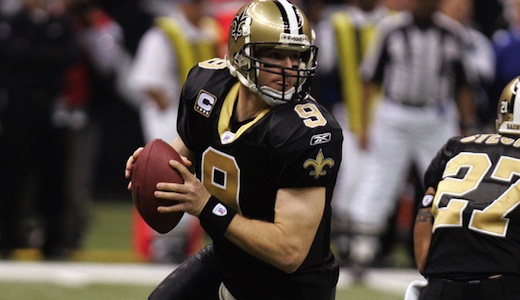 New Orleans at Seattle
Good: Seattle's a tough team at home especially if the Saints find themselves on third and long. Seattle's fans can be very loud on third downs.
Image by Getty Images via @daylife
The Seahawks are a respectable 5-3 at home, which is probably the only statistic that gives them a glimmer of hope against the defending Super Bowl champs. On the other hand, the Saints are a great road team with a record of 6-2. Their road record is actually better than their record at the Louisiana Superdome.
Bad: No one is giving the Seahawks a chance in hell to beat the Saints, but if the Saints play like they did against Tampa Bay, who are we to doubt Seattle. Brees is throwing interceptions as if they were post-Christmas gifts. For the past eleven games he has thrown at least one interception. Reggie Bush played well against the Buccaneers and finished with 70 yards rushing and 55 yards receiving, but the numbers lie. His hands had holes in 'em because he dropped at least two passes.
Bet the NFL Playoffs at Bodog – CLICK HERE NOW!
Ugly: Where has the New Orleans passing game gone? It has loss its trademark explosiveness. They rely heavily on short passes to their running backs and screen passes to their receivers. Their passing game has become a move-the-chains offense rather than deep ball threat.
The Saints face third down more often this season, which isn't necessarily a bad thing because they have Drew Brees at QB. It becomes a bad thing when they have to face third down on the road.
Key for the Saints: New Orleans' running game needs to get going early. Their running backs are too talented and Seattle's run defense allows 119 yards per game.
Key for the Seahawks: Shut down the running game. They did it against Steven Jackson. If they do that they can focus on Brees and force an interception or two.
Who wins: Brees played without Reggie Bush, Pierre Thomas and Jeremy Shockey in the season meeting with the Seahawks and still shredded them for four touchdowns.
This game will be closer than most people think. The Saints' experience will be enough to overcome the ruckus crowd in Seattle.
AFC Wild Card
Sign up for an Account Now at Bodog Sportsbook – Bet the NFL Playoffs
NY Jets at Indianapolis
Good: Indianapolis' front four of Robert Mathis, Daniel Muir, Fili Moala and Dwight Freeney can give Sanchez problems. The Colts have an underrated pass defense that allows their linebackers to roam around waiting for a pass or hold ground anticipating the run.
Bad: Peyton Manning will miss Austin Collie in this game. He'll try his best to distribute the football, but the absence of a running game will be too much for even him to overcome.
Expect Manning to attack Darrelle Revis early just to keep the Jets secondary guessing.
Meanwhile, the Jets have a more dynamic offense. They should get Mark Sanchez's confidence up by throwing short and safe screen passes to set-up the run. If the Jets establish a solid running game in the second and third quarter, Sanchez can find his targets late in the game.
Ugly: It's always fun to hear Rex Ryan run his mouth during press conferences. His personality is made for Broadway. In his recent presscon he boldly declared that it was a personal battle between him and Peyton Manning and he was determined to win it. We love how Rex is with his declarations, but don't you think he's putting a little too much pressure on his players to perform? He has become this spotlight hog that can be a distraction. Then again, the Jets play in New York so distractions are merited. It is a different matter though when your coach and not your players are the focal point of distractions.
Keys for the Colts: Contain Sanchez and limit his effectiveness. His impact on the game will determine the Jets running game. If Sanchez attempts more than 30 passes, the Colts will win.
Keys for the Jets: Run the football to keep Manning's field time limited.
Who wins: New York hasn't dominated anyone offensively this season. It won't happen this week. All the Jets' offense has to do is dictate the pace of the game and it'll be an early exit for Manning and the Colts.