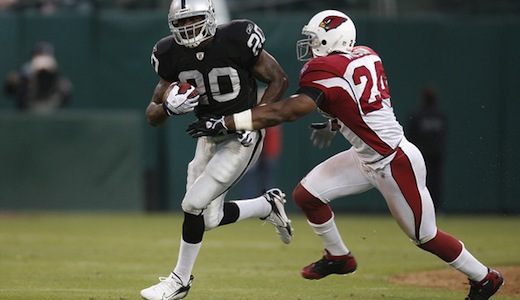 The AFC West division has been without a doubt one of the worst divisions in the NFL for quite some time now. No matter what the majority of the teams within the division did during the off-season to improve their football team, they all ultimately ended up bowing down to the San Diego Chargers every single season
With an extremely talented football team on both sides of the ball, the San Diego Chargers usually just cruised to an AFC West division title every year and didn't get much of a challenge from the Denver Broncos, Oakland Raiders and the Kansas City Chiefs.
Bet the NFL Playoffs at Bodog – CLICK HERE NOW!
This season on the other hand has been a change of pace for the teams in the AFC West division as the Oakland Raiders and the Kansas City Chiefs have seemingly turned the corner and become forces to be reckoned with. Not only are the Chiefs and the Raiders dominant defensively this season, but they are also two of the best running teams in the league with Pro Bowl caliber running backs Jamaal Charles and Darren McFadden leading the way.
These two teams still have their problems this season as the quarterbacks still need to prove themselves, but they have deftly turned into the real deal and legitimate playoff teams.
Unfortunately for the Raiders, last week was their last shot at clinching a playoff spot as they lost to Peyton Manning and the in the Indianapolis Colts. Even though Oakland put up one hell of a fight, they still were able to get the best of the Colts and ultimately will miss the postseason despite having an impressive season.
The one thing the Oakland Raiders do have going for them coming into this AFC West showdown with the Kansas City Chiefs is that they can make history. With a win over Matt Cassel and company this weekend, the Oakland Raiders will become the first team in NFL history to go undefeated within their division and not make the playoffs.
Sign up for an Account Now at Bodog Sportsbook – Bet the NFL Playoffs
Obviously, this is not a distinction that you want or can brag about as you always want to make the playoffs, but everything from here on out seems to be an improvement for this struggling NFL franchise.
Going undefeated in divisional play is impressive to say the least, especially when you're playing against teams like the San Diego Chargers and the up-and-coming Kansas City Chiefs.
Along with the motivation going undefeated in the AFC West, the Oakland Raiders will almost certainly be playing against the second stringers as the Kansas City Chiefs will probably look to rest their starters for the playoffs.
With that being said, I believe the Raiders should get an easy victory this weekend as the Chiefs probably won't put up much of a fight.